Apple Working on a Quad-Core iPhone, iPad?
Next year, we will have moved beyond the dual-core era into an era of smartphones powered by quad-core processors. NVIDIA has announced its plans to bring its quad-core chips to tablets this year and smartphones in 2012 and Qualcomm has made its plans for a 2.5GHz quad-core processor in 2012 known as well. Both chips will likely be deployed inside Android and maybe Windows Phone devices which doesn't make Ars Technica's report about Apple possibly working on a quad-core chip all that hard to believe.
Source code from the Clang compiler, used in Apple's Xcode developer tools, has revealed code that references support for the Armada XP which is a Marvell developed ARM quad-core chip:
A developer who works on low-level ARM assembly coding for security products was the first to alert Ars that support had been added for Armada's Cortex A9-compatible processors in the latest version of Xcode (a claim that we later confirmed first-hand). The source code for a part of Clang that interprets what CPU type is being targeted for optimization includes a definition for an architecture type of "armv7k" and CPU type "pj4b". PJ4B is a specially optimized CPU design used in Marvell's quad-core Armada XP embedded processors.
At the moment, it's unclear why support for the ARM-based processor is included inside the code but there is a chance that it could be a placeholder for a chip that Apple plans to put inside the next iPhone or iPad.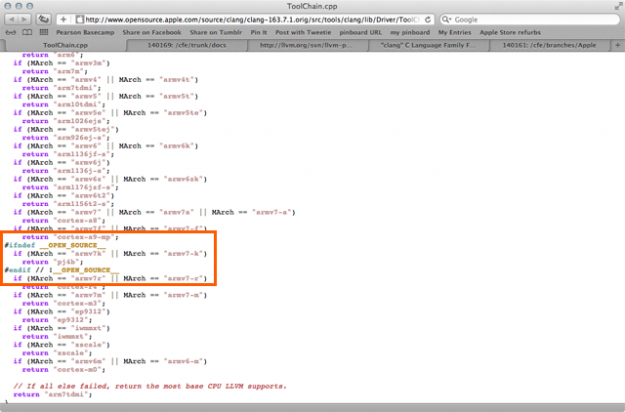 The upcoming iPhone 5 is widely expected to feature Apple's A5 processor which is dual-core and is the same processor found in the iPad 2.
It's also possible that Apple is planning on placing a quad-core chip inside a MacBook. So, at this point, much like the iPhone 5, Apple's plans remain behind a curtain of uncertainty per usual. However, these plans aren't shocking considering the current state of the market.
Apple is going to want to keep pace with Android in 2012 and it's going to at least have to consider a quad-core chip, amongst other things, if it plans to do that.
Via: MacRumors

This article may contain affiliate links. Click here for more details.