Applebees Embraces Presto Tablets for Ordering and Entertainment
Applebees restaurants will start to use tablets as a tool for ordering some wings, a steak and those awesome blonde brownies in 2014 when they install 100,000 Presto Tablets in restaurants. Diners can also pay their check, play some games and then post it all to Facebook using the tablets.
Customers can use the Presto Tablets in the first phase of installation to see the restaurant's menu, add items to an order and, when finished, pay the check, according to Businesswire.
Starting out, our goal was to create a way for guests to control when and how they pay their check. What we learned after nearly two years of testing is we can provide much more. The Presto tablet will deliver our guests a robust slate of offerings for not only transactions, but entertainment, social interaction and more, moving forward. (Applebees President Mike Archer)
In later phases of installation, after a customer orders a meal, she can play games, watch streaming video, play music and Tweet or post to Facebook. At first Applebees will only allow people to add items to an order, like dessert or a cup of coffee. They can also view their check and pay using a credit card reader. After the first stage of installation finishes, the company will add the entertainment features.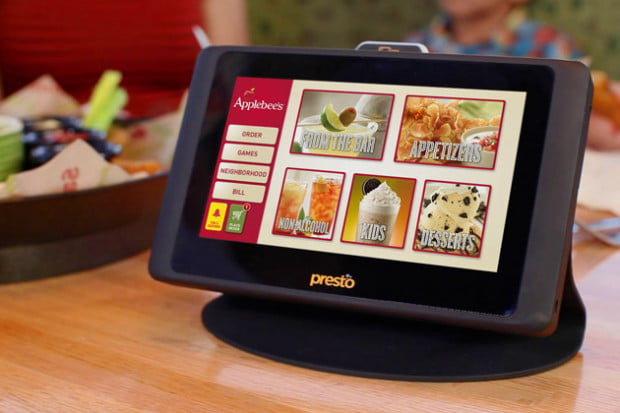 The Presto Tablets design comes from El la Carte, which created the tablets specifically for restaurants. The tablets include cameras, NFC and Bluetooth. They hope restaurants will eventually allow users to pay with a digital wallet, like the Google Wallet card or NFC payment tools included with some Android phones. Cameras could take a shot of the diner's credit card to grab the account information and charge the card without need of the server. Servers can focus on serving the food to their customers and not taking payment.
The company that owns Applebees, DineEquity, also owns IHOP. If this installation works well at Applebees, DineEquity may introduce them at IHOP restaurants later.