AppleInsider reveals Apple Store's iPod-based checkout system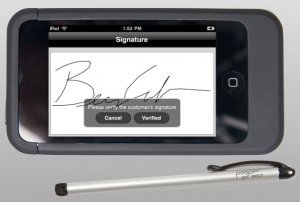 They reported that Apple was dumping their Windows CE-based devices for their store checkout system. Now, AppleInsider has a first-peek at the new iPod touch-based system.
Those who have seen the system for processing credit card, debit card and cash purchases, dubbed "EasyPay touch," said it combines iPod touch features with a magnetic stripe reader, advanced barcode scanner and Apple-written software to speed plastic and cash transactions.
Quite frankly, there's nothing terribly surprising about this design. A barcode scanner and card reader are completely mandatory. A case-style plug-in was the safest bet. I like that they've decided to go with the Pogo stylus to sign the signature area instead of building their own sponge-tipped metal shaft. While I've found a damp cellulose sponge to be a fantastic iPhone stylus, the Pogo is pretty good too. Much more photos at AppleInsider.
As a side note, I wonder what sort of iPhone/iPod touch accessory innovation this development might spur. We really haven't seen a whole lot of new stuff since the iPhone OS SDK was opened to dock accessories. Perhaps game controllers, enhanced cameras, and more industry-oriented plug-ins will start coming to market.