Apple's Black Friday Sale Starts Now in Some Locales, Deals Disappoint
While some manufacturers and retailers are knocking off big dollars for Black Friday, Apple's offering just a few percentage points off its popular core products, including the iPad, iPod Touch and MacBook lineups. The first signs of Apple's Black Friday sale is in Australia, where it's already Black Friday, even though Aussies don't celebrate turkey day.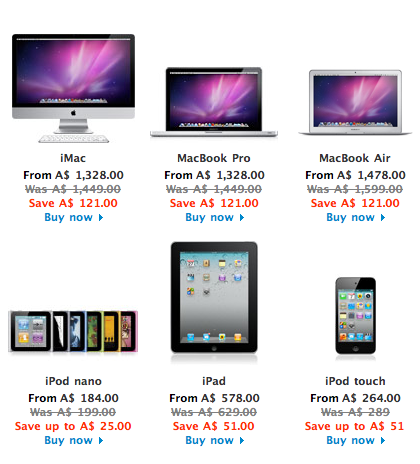 If you're already planning on buying an iDevice or MacBook from Apple this Black Friday the discounts are enough to cover a couple of accessories, but not much beyond that. We've seen much better deals and Apple authorized resellers, many of whom are offering both discounts and freebies with the purchase of a Mac or iPod Touch.
Here's more details on Apple's Black Friday sale in Australia. Here's a compilation of all the Apple Black Friday deals we've found.

As an Amazon Associate I earn from qualifying purchases.