Apple's Contextually Aware Digital Wallet Combines Passbook Features
A recently uncovered Apple patent application for a contextually aware digital wallet may give hints to a more secure iPhone as a form of payment at physical retail stores. The Apple digital wallet would essentially compete against other NFC solutions, such as Google Wallet on Android and the ISIS wallet that's prepped by a coalition of AT&T Mobility, T-Mobile USA, and Verizon Wireless.
Essentially, the Apple-built e-wallet service would would simplify the check-out process by remembering customer's choice for preferred payment options, reward cards and gift card balances, location information, and special offers or promotion. Some of these features, like location information, are already part of Apple's Passbook, which is used for boarding passes, tickets to events, loyalty and reward cards, and gift cards like those offered from Starbucks. If a user approaches an airport, for example, a boarding pass would pop up so users don't have to hunt for their digital boarding pass. And if an iPhone user approaches a Starbucks location, a Starbucks gift card would appear to help customers pay for their latte quickly.
And the smart digital wallet would go further by taking more contextual information into account. If there's a limited time special rewards with double points on a credit card for a special retailer and you're visiting that retailer, Apple will let you know to use that special credit card to take advantage of that offer.
If there's a card that you normally prefer to use–like American Express–the digital wallet would use that card first. If a merchant doesn't accept American Express, it would go down the list to the next available card.
And Apple could help users track their balances, pay with gift cards, and even consider financing charges to better make financial plans.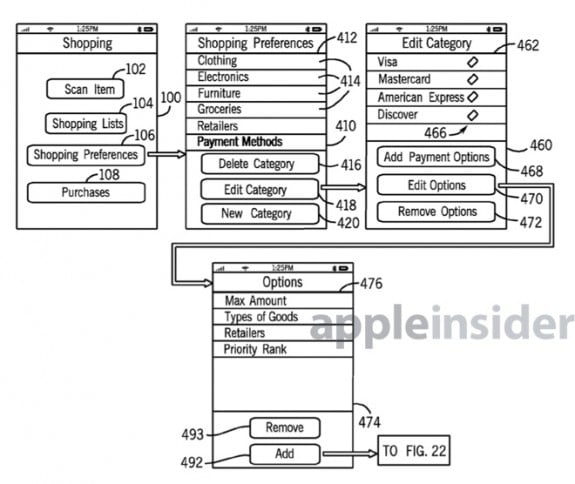 The application was discovered by AppleInsider, and the publication says that the patent makes use of near field communications, or NFC, technology. Thus far, no iPhone has been shipped with this short-range communications protocol, but the patent application may allude to NFC on a future iPhone.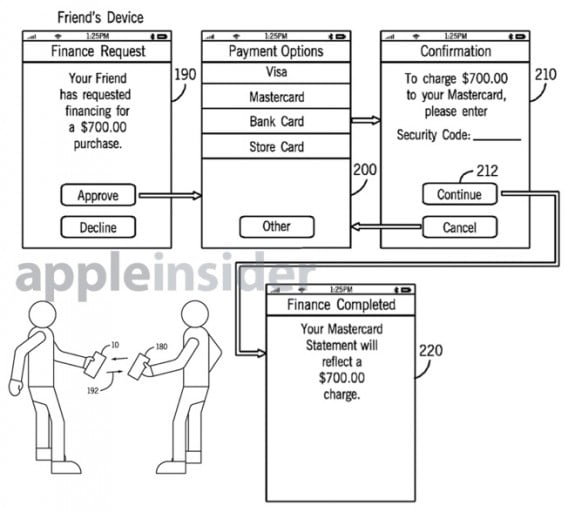 An iPhone 5S is expected to debut in the fall and this phone model could be a perfect fit for an Apple wallet. The "S" in iPhone 5S is rumored to stand for security where Apple would embed a fingerprint scanner to make the phone secure. Not only could users lock and unlock their phones with a finger scan, but they can enter in passwords and login credentials as well. For a digital wallet, a secure iPhone would definitely make consumers feel more safe about replacing their physical wallet with a digital one. And given the number of iPhone thefts in metropolitan areas, having a fingerprint security would definitely help to safeguard financial and credit card information if the iPhone gets stolen.
It's unclear when Apple may launch a full digital wallet service to compete with Google Wallet. Thus far, however, Google Wallet has not taken off as it's only available on limited phones and retailers must install NFC readers for customers to use.