iCar Magnetic iPad Mount Patent Could Threaten SoundMan Car Audio Solution
With rumors swirling about Apple's foray into the car space with more iCar innovations, it was recently discovered that Apple had filed for an iPad mount that works via magnets. Similar to how the Smart Covers work in activating the iPad and iPad mini from sleep mode, magnets placed within these mounts would be discrete and serve to hold the tablet in place, even while upside down. The iPad-maker had suggested different use case scenarios for how these mounts would work, and one particular example would be in the automotive space suggesting Apple may be eyeing the telematics industry.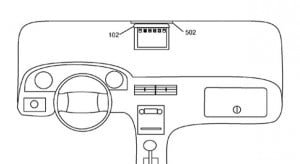 Though this is the first time we've seen the patent, which was filed originally in August 2011, the idea has already been implemented. Car enthusiasts who demand custom tablet mounts for their vehicles have been turning to specialty shop CarMan Sound Audio in Southern California to install mounts that would accommodate tablets such as the iPad, iPad mini, Nexus 7, and Surface. With the iPad mini, SoundMan Car Audio had created what the company brands as a 'floating mount' for the iPad mini. SoundMan Car Audio uses the iPad mini's Smart Cover and extracts Apple's magnets and installs them in their mount, which would be custom fitted and installed to different vehicles.
The video below shows SoundMan's installation of the iPad mini floating mount on a 2010 VW CC. The video was published on November 2, 2012 following the release of the iPad mini in the U.S.
SoundMan Car Audio also sells a kit that DIY'ers can do at home. The float mount is only available for the iPad mini and SoundMan Car Audio offers a custom fitted mount that uses tension and mechanical elements to secure other tablets, including the larger iPad.
With Apple eyeing the telematics space, third-party solutions like those delivered by SoundMan Car Audio and others may be at risk. Apple usually aggressively goes after competitors with patent lawsuits if it feels threatened, and given that Apple's patent filing date of August 31, 2011, or over a year in advance of SoundMan Car Audio's solution, Apple could legally go after anyone who uses this mount method if a patent was granted.
In addition to the in-car dash mount, Apple has other suggestions for how a magnetically mounted tablet can be used.
One example would be through a traditional cradle or desktop dock. Another example found within Apple's patent filing would be on a tripod, perhaps for use as a stand or podium for notes. And yet a third example shows that the iPad can be integrated with fitness and exercise machines, including a treadmill where the iPad can be used to display information or add value to the workout regimen.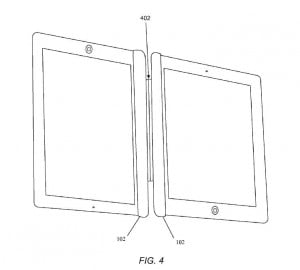 Yet another example actually resembles Microsoft's now defunct Courier tablet concept with a center spine–that houses the magnets–and where two iPads can snap together to create a book-like experience.
And Apple also claims that the magnetically mounted solution is strong enough that the iPad would not fall out of the mount if turned upside down. This means that the magnetic mounts can be placed on the ceiling of cars and the iPad can be snapped into place like a drop down screen for rear passengers to utilize.
Potentially, as Apple enters the telematics space with modular solutions, like a dash-fitted iPad or iPad mini, the company will likely have to work with car manufacturers to provide better integration between the car and tablet. This means that a car app may be created that would provide GPS, car diagnostics information, gas mileage, and car controls for radios and temperature.
It's going to be an interesting year for smarter cars. AT&T is currently working with General Motors to deliver a connected car idea and we should see more and more of our gadgets talk to each other thanks to ubiquitous mobile broadband connectivity.