Apple's iPad 3 Event: What You Should Expect
Google's Eric Schmidt just took the stage at the Mobile World Congress 2012 and lo and behold, Apple has sent out invites to an iPad event set to take place in San Francisco on March 7th. The event will be going down at a familiar venue, the Yerba Buena Center for the Arts, and it's poised to kick off at 10AM PST.
We have been hearing about the next iPad, presumably called the iPad 3, for a number of weeks now. From rumored hardware features to the software that may or may not be on board, our ears have been saturated with whispers.
We've heard that there might be a speedy, powerful processor. We've heard about a gorgeous Retina Display with insane resolution. We've speculated that it might have Siri on board. And we've also heard that it might look very similar to the iPad 2.
And while Apple's invite doesn't confirm much of anything, other than that event pertains to an iPad announcement, we think we have a pretty good idea about what you should expect from Apple's iPad 3 event.
Numbers Game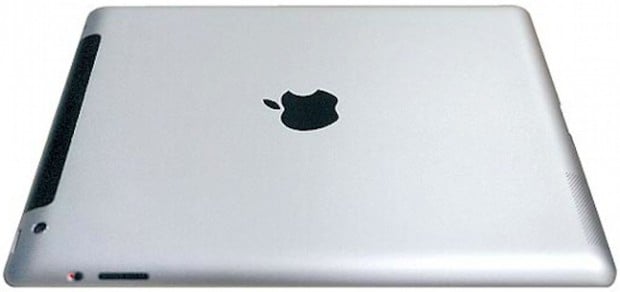 As with any major Apple event, the event will likely start off with a bunch of numbers that will make your brain tingle.
This will be Apple CEO Tim Cook's second major product launch, following that of the iPhone 4S, and it comes on the heels of some impressive first quarter numbers in terms of sales.
In the first quarter alone, Apple sold 37 million iPhones, which translates to selling 377,959 iPhones every day, or about 262 iPhones a minute. In addition to those staggering figures, the Cupertino-based company also sold a mind-boggling amount of iPads.
How mind-boggling?
15.4 million iPads sold in quarter one of 2012 mind-boggling. Digging deeper, that can be broken down as 157,000 iPads a day, or 109 iPads a minute.
We expect Apple to touch on these numbers once again and also focus on the 25 billion app counter that has been running for a number of days now.
If you haven't heard, the App Store is about to surpass the 25 billion apps downloaded mark and we have no doubt that that will figure heavily into the opening remarks made by Tim Cook.
It's an impressive figure and it's definitely a great figure to focus on at the start since a lot of the iPads success can be attributed to the high quantity (and quality) of applications available for consumption.
An iPad 3 Announcement
Clearly, this event is going to be the launching point for the next iPad. As of right now, the name of the device is unknown. We have heard iPad 3. We've heard iPad 2S. And we've heard iPad HD, the HD of course referring to the device's possible high-definition Retina Display.
(Read: What We Know About the iPad 3.)
Over the last several months, we've heard a ton about the possible features that will be on board the next iPad when it arrives. And while we still don't have the entire picture, we think we have a pretty good idea as to what consumers can expect when the device launches next month.
Similar Design
We expect the iPad 3 to feature a design that's similar to that of the iPad 2. It may have a tapered edge and it may be a tad thicker than the iPad 2, but other than that, we expect it look very similar.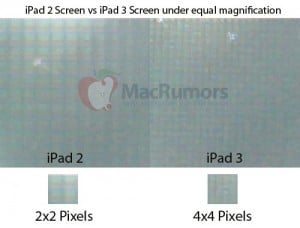 Retina Display
One of the most heavily rumored features of the iPad 3 is the Retina Display that is supposedly on board. Expect this to be the big talking point at the event.
We've heard that the iPad 3 employs 9.7-inch display, same dimensions as the iPad 2 screen, but that it has four times as many pixels.
This means the display might have a resolution of 2048×1536, which is quadruple the 1024×768 screen in previous iPads.
If true, it will mean that the display on the iPad 3 will offer a better viewing and reading experience, with clearer images and text.
Powerful Processor
We're still unsure whether Apple will include a dual-core or quad-core processor in the next iPad. However, we expect that the chip that it does include inside the iPad 3 will be more powerful then the dual-core A5 processor found in the iPad 2.
We have heard that the chip might either be a dual-core A5X or A6 chip.
This is still up in the air but we expect the chip inside the iPad 3, whatever it is, to bring better and smoother graphics.
4G LTE
Another heavily rumored feature is 4G LTE compatibility.
For those unfamiliar with 4G LTE, it's a next-generation cellular network that offers data speeds that can be up to 10 times faster than those of normal 3G. Right now, AT&T and Verizon are the two major U.S. carriers that employ 4G LTE while Sprint and T-Mobile have plans to introduce it in the future.
If Apple does include 4G LTE with its iPad 3, it would be the first Apple product to feature such connectivity.
iPad 3 Release Date
Apple almost always announces availability at these events and we expect nothing different at the iPad 3 event. We have heard from a source that Best Buy will get their shipments of the iPad 3 on March 9th but that the store doesn't know whether it will go on sale on March 9th or March 10th.
That would be a very quick turnaround if true, the iPad 2 was released nine days after its announcement, so as of right now, take both of those dates with a grain of salt.
iPad 3 Price
Before yesterday, we fully expected Apple to release the iPad 3 at the same price point as the iPad 2.
The iPad 2 currently starts at $499 for the Wi-Fi only version and can get up to $829 for the most expensive model which is the 64GB 3G+Wi-Fi version.
According to a leaked document, the iPad 3 might be more expensive across the board.
The documents has the cheapest iPad 3 model listed at $579 while the most expensive version of the iPad 3 could be as expensive as $899. That would mean an $80 jump in price for the Wi-Fi-only models and a $70 increase for the Wi-Fi + 3G variants.
And while that evidence appears to be credible, Apple has stayed pretty consistent with its pricing with both the iPad and iPhone and it would be pretty shocking to see the bump in price.
We expect the price of the iPad 3 to mirror that of the iPad 2.
iOS 5.1
In addition to the iPad 3 announcement, we expect Apple to detail the highly anticipated iOS 5.1 update for its iOS devices. We fully expect this to be the version of iOS that will be on the iPad 3 from the start.
The software has been rumored to include quite a few new features including:
A permanent camera button next to the slide to unlock area.
More languages for Siri.
Fix for iPhone 4S battery life issues.
New Siri interactions.
New Photostream options.
Ability to use iTunes Match over 3G.
The big question mark here is whether or not Siri will come on board the iPad 3. As it stands, the iPhone 4S is the only device that has access to the popular virtual assistant.
We expect Siri to come with the iPad 3 but as of yet, there is no definitive evidence that indicates that Apple will be bringing Siri to the iPad.

Developers, Developers, Developers
Again, like any iPad event, we fully expect there to be a bunch of developers taking the stage to introduce new software. We expect much of this software to revolve around the 4G LTE connectivity, powerful processor and Retina Display that the iPad 3 is rumored to employ.
There might also be a surprise as well.
We have heard that Microsoft is working on Office for the iPad, a suite that includes Word, Excel and Powerpoint, and it's possible that Microsoft might take the stage and announce the new software during the iPad 3 event.
…maybe, just maybe, 'One More Thing'

'One More Thing' was a line made famous by Steve Jobs and while Tim Cook may not use it at the event, it's possible that he might have a surprise up his sleeve at the end of the iPad 3 event.
We have heard that Apple might be releasing a smaller version of the iPad to compete with the likes of the Amazon Kindle Fire and Barnes and Noble Nook Tablet in both size and in price.
(Read: Why a Smaller 8-inch iPad Makes Sense Along With the iPad 3.)
Those two devices retail for $200 and $250 respectively.