Apple's iPad Maxi Pegged for Early 2014?
Apple may be adding yet a third tablet size to its iPad lineup that's being dubbed, at this time, the iPad Maxi. The Maxi name would likely change when the device debuts, which is speculated to be early next year.
The device is conceived to compete against the rising Ultrabook computing category, many of which bear the slim clamshell laptop form factor while others are able to convert into tablets through hybrid and convertible designs.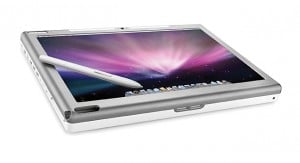 At this time, not much is known about the iPad Maxi other than its display size, which is said to clock in at 12.9 inches, or a tad smaller than the traditional 13.3-inch on an Ultrabook.
News of the this third iPad tablet was being reported by Korea's ETNews, which is claiming that its sources are telling it that Apple has already been in contact with its component manufacturers about a 12.9-inch display.
There could be several possibilities why Apple is adding such a large tablet to its range. One would be to better compete in the growing educational segment and further its push with digital textbooks. Another may be to use a version of the full-sized OS X operating system that's optimized for touch to appeal to the creative professional and fight off Windows 8, though such a slate may be heavier and more power-hungry than the iOS system employed on today's iPad and iPad mini. The only OS X tablet on the market is an after-market modified system delivered by Modbook.
Reports of the iPad Maxi comes just rumors of the iPad 5 and an iPad mini 2 Retina Display are picking up momentum. Both slates are rumored for a fall launch.