Apple's iPad Siri Images Hint at Taller iPhone
Being my usual thorough (read: OCD) self, I was examining Apple's site for unannounced details on iOS 6 and noticed something odd. The Siri dialogue boxes in the iPad images are taller than the iPhone's. Simple error or hint of what's to come?
Above is an image from Apple's website describing Siri on iOS 6. If you're like me, you'll notice the Siri dialogue box on the iPad has a taller aspect ratio than what's on the iPhone. However, if you're, what's the phrase, not a weirdo, here's the Siri dialogue box in isolation.
Clipped out of the image and scaled to a width of 640 px to match the iPhone (click through to view full-size), the Siri dialogue box from the mockup is noticeably taller at (roughly) 1058 px compared to the iPhone's 960 px tall display.
For comparison, here's a clip of the Siri dialogue on iPad from Josh using the iOS 6 beta.
With iPad in vertical orientation, the Siri dialogue box is 922 px tall. It inexplicably grows to 926 px tall in horizontal and is 640 px wide in either orientation. Regardless, the Siri dialogue box in the iOS 6 beta on iPad is shorter than the current iPhone display, while Apple's mockup is taller. Now, here's where things get interesting.
If I add the iPhone status bar on top of the 922 px tall Siri dialogue from the iOS 6 beta, it grows to 960 px. Perfect fit for the current iPhone display.
No surprise there. Border decoration aside, the iPad Siri dialogue box uses the same format and graphics as Siri on the iPhone, minus the status bar on top. The mockup from the Apple site is already taller than that so this trick won't work, but look what happens when I stick a notification banner over it.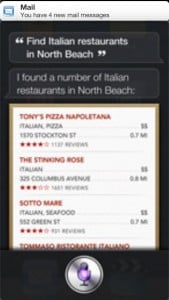 The mockup Siri dialogue box plus a standard notification banner results in a height of 1136 pixels. Why is that relevant? Because it's the rumored height of the next iPhone. 1136 x 640 px, 16:9 aspect ratio. Interesting, no?
This, of course, is not proof that the next iPhone will have a 1136 x 640 px display with a taller status area to accommodate notification banners. All it proves is that Apple is using art for the iPad Siri dialogue box mockups with a noticeably taller aspect ratio than what's in the iOS 6 beta. Could be a simple art error. Could be coincidence how these parts fit together. But somebody, somewhere in Apple created and approved these images based on what they thought would be in iOS 6. You have to wonder where these taller Siri dialogue boxes came from.

This article may contain affiliate links. Click here for more details.