Apple's iPhone 5 Event: What You Should Expect
After months of speculation, Apple announced that it will be talking about the iPhone at an event on its Cupertino campus on October 4th. Needless to say, all eyes will be on the event. For many reasons.
One, this will be the first major Apple event Tim Cook presides over as company CEO.
Two, with the market the way that it is – tons of top notch Android phones, Windows Phone on the rise, 4G LTE, etc – there is going to be quite a bit of pressure on Apple to deliver to its customers.
And three, Apple is likely going to be announcing a new device for the world to oooh and ahhh over. And those are just the main story lines of the event.
(Enter to Win an iPhone 5 From GottaBeMobile)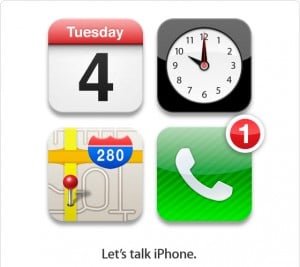 We've heard rumors about an exclusive iOS 5 feature for iPhone 5, a possible Facebook app announcement and the possibility of not one, but two iPhone models getting announced.
All told, there is a lot going on here and so we wanted to break it down and fill you in on what to expect from the event that Apple fans everywhere have been waiting for since the end of WWDC 2011.
Lots of Stats
Just like any big Apple event, expect the company to tout its sales figures right off the bat. We'll probably hear about the iPad 2's steady sales figures and we'll probably hear about how the iPhone 4 is still selling well and how it continues to be the world's most popular phone. And, in true Apple fashion, we'll probably Apple's iconic phone compared to the competition.
If you recall, Steve Jobs made the lack of apps for Android tablets very apparent when he announced the iPad 2 so I'd be willing to bet that Tim Cook takes a moment to dig at Android, Windows Phone and maybe, just maybe, RIM.
There might even be a dig at the Kindle Fire, a device that many are now touting as an iPad-killer because of its low price point.
After all, Apple isn't just announcing new products on stage, it's selling them to its audience.
An iPhone Announcement
We can expect an iPhone announcement of some sort. Over the last year, we've heard tons and tons and tons of rumors about the next incarnation of the iPhone. And guess what? The phone is still a unicorn. Just when we think we have it narrowed down, another rumor surfaces refuting the previous rumors.
At this point, the only thing that I can say with confidence is that Apple will announce a new iPhone. Beyond that, things are murky. But here, as I touched on in my latest iPhone 5 roundup, are the things I think are the most likely features to appear on the next iPhone:
Apple A5 Dual-core Processor
World Phone
Thinner Design
New Antenna
Upgraded Camera
Black And White Models
More RAM
Those are educated guesses, but they are guesses nonetheless.
Two iPhones?
There has been a lot of talk about a device called the iPhone 4S which might be a cheaper, improved iPhone 4. It's also been called the iPhone 4 Plus. Either way, it has been rumored to be launching alongside the iPhone 5.
If real, Apple will use it to target the plethora of cheap Android options that have flooded the market. But, keep in mind, nothing about this event is set in stone. There is another scenario that suggests that the iPhone 4S and iPhone 5 are one in the same.
John Gruber from Daring Fireball, one of the few out there that is in the "Apple know" has chimed in with his two cents claiming that he believes that there is only going to be one iPhone announced on October 4th.
Hard to disagree with the guy.
iOS 5 Galore
Just as WWDC 2011 was centered around software (OS X Lion, iCloud, iOS 5), you should expect this event to revolve around software as well. Expect Apple to talk more in depth about iOS 5 and its upcoming features and give current iPhone owners a release date for the new software. We've been hearing October 10th or October 12th so don't be surprised if one of those days is announced.
We also expect Apple to introduce a revolutionary feature, that might be exclusive to the iPhone 5, called Assistant voice control. The feature will essentially take the iPhone's Voice Control to the next level and will allow you to text, schedule things on your calendar and get directions (just to name a few things) just by speaking into the phone.
This is something that has been rumored ever since Apple bought up Siri so don't be surprised to see this be an integral part to Tuesday's presentation.
Here's a look at iOS 5's features
https://www.youtube.com/watch?v=LLJIef-e-7g
…And Maybe A Few Surprises
And just when we thought we had this event figured out, it's possible that Apple might have a couple of surprises up its sleeve. We've heard murmurs of a Facebook iPad app launch, software that iPad users have been clamoring for for quite some time. It would be a little strange to see Facebook announce it at an Apple event and not at their own but then again, Facebook knows that the world's eyes are going to be on this event.
We also some some suspect screenshots of iOS 5 Facebook integration a few days ago. The screenshots don't appear to be genuine but the idea definitely is. So is the idea of Apple announcing something in iOS 5 that it didn't announce at WWDC be it Facebook integration or something else.
Lastly, it's possible that the iPhone won't be the only hardware we see announced on stage. Although I suspect that it is, there is always the possibility of something iPod or iPad related getting announced on stage.
An iPad 3? Unlikely.
But a new iPod touch perhaps? It's looking like a possiblity.
Anything's possible at an Apple event.

As an Amazon Associate I earn from qualifying purchases.