Apple's Next-Gen A4 CPU to Grace iPad 2, iPhone 5 with Dual-Core Computing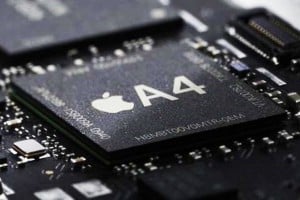 Apple is expected to unveil its next-generation system on a chip (SoC) design that will succeed the company's proprietary A4 processor in its next-generation mobile computing products, including the next iPad and iPhone. The chip itself may also make it into Apple TV, which at this time shares its A4 processor with the iPhone, and will bring 1080p HD output, dual-core processing, and updated multi-core graphics integration from Power VR.
According to sources from AppleInsider, the next-generation processor will be a dual-core ARM Cortex A9-based solution that will be clocked at 1 GHz. Moreover, the graphics portion of the chip will get upgraded to use Power VR's newer SGX543 design, rather than the SGX535 which has been employed now for two generations on the iPhone 3GS and iPhone 4.
Though it's unclear at this point, until Apple officially announces products shipping with its next-generation processors, how the company will utilize the updated graphics capabilities. In addition to better gaming support, AppleInsider is speculating that the updated video and graphics capabilities of the new chip design may help Apple in better video decoding, potentially supporting HDMI output. The company has in the past shied away from the HDMI standard, opting instead to use the Mini DisplayPort technology on its laptops though HDMI did manage to grace the recent Mac Mini and the Apple TV. Whether apple implements an HDMI connector in addition to the company's proprietary dock connector on its iPhone, iPod Touch, and iPad is unclear, but HDMI output at 1080p HD can potentially grace the Apple TV, which already supports the port.
Another feature of the SGX543 graphics core from Power VR is that the design can potentially allow Apple to go to a multi-core GPU design, offering dual-core graphics and dual-core processing power on its next-generation Apple A4 successor. Rival Sony is rumored to also be using a multi-core SGX543 design on its next-generation PlayStation Portable gaming device to boost power and performance.

As an Amazon Associate I earn from qualifying purchases.