Apple's Next Snow Leopard Update a Hackintosh Killer, Nixes intel Atom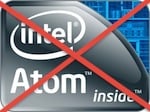 Apple doesn't sell a netbook of its own, but there are quite a few netbooks that have received the Hackintosh treatment. While installing OSX on a PC is forbidden by the EULA, it's fairly easy to turn a Dell or Acer netbook into a Mac clone. Apple isn't all to happy with that and will be killing Atom support in its next Snow Leopard update according to an OSXDaily article. Those who've been waiting for an Apple netbook or Atom-powered tablet can stop dreaming of such devices if Apple releases the developer build to the public.

As an Amazon Associate I earn from qualifying purchases.