Apple's Point of Sale Solution at Old Navy, Rolling out Elsewhere?
At least one retailer is testing Apple's point of sale solution in some stores this holiday shopping season. One shopper snagged a photo of the Apple PoS ringing up a Christmas sweater at Old Navy.  The POS is called ZipCheck when used outside of Apple Stores.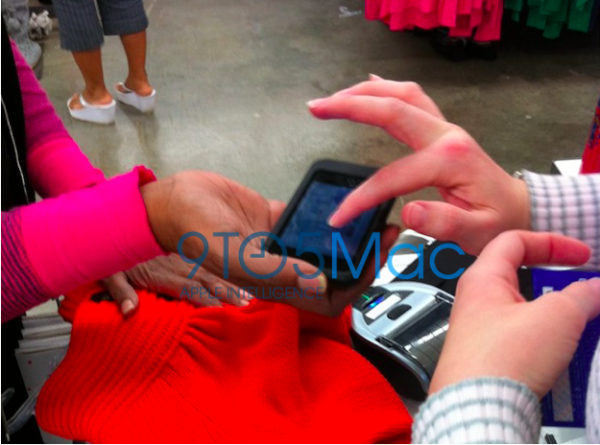 The system is based on an iPod Touch, but is apparently of higher quality than the third party systems we've seen from others. The Apple POS allows shoppers to quickly sign for their purchases with their finger tip and receive printed receipts from mobile printers hanging on the salespeople's belts.
The Apple PoS solution is incredibly efficient. At Apple retail stores, the PoS pulls customers' data so a receipt can be emailed rather in addition to or instead of the printed receipt. It allows the salesperson to actually complete the sale, rather than forcing customers to wait in line. It also allows employees to get from behind the counter and onto the sales floor to help customers. Of course buying a few handhelds is much cheaper than taking up valuable square footage with bulky counters and cash registers.
Apple hasn't announced anything about its PoS outside of its own stores, but 9to5 Mac did manage to get a confirmation from a Gap/Old Navy spokesperson that the system is indeed being tested.
If you like the idea of using an iOS device for accepting payments there are several solutions available. Amongst the simplest is Square, which provides a square credit card scanner that plugs into any iOS device.

As an Amazon Associate I earn from qualifying purchases.