Applications for Capri Kinect Tech Could Extend Beyond Smartphones
We had reported that Capri would bring Kinect's motion tracking technology to smartphones and mobile devices thanks to the shrunken chipset that would be 1/10th the size of the motion tracking chip inside Microsoft's home gaming console accessory. On the surface, Capri would open the doors to natural user interfaces and new ways that a user can experience using their phone through gestures and flicks, but there are implications for Capri beyond a smartphone's UI. As smartphones become a more pervasive part of our lives, phones could potentially be tapped to provide tracking features and new applications that extend beyond the phone and into other segments, like automotive, the living room, and more.
Natural UIs As a Result of Capri
Some of the applications for smartphone would be to flip pages in a cookbook, for example, by waving your hands over the sensor. Capri could also detect if you're looking at the display, and if you are looking at the screen, then the display wouldn't time out. Many of these technologies have been implemented already using the front-facing camera on a smartphone. The former was introduced on a Pantech Vega smartphone while the latter feature is available through Samsung's phones and is known as Smart Stay. Face unlock can also be another feature using the Capri sensor, which is a feature that Google already uses but with the front-facing camera.
Additionally, you can also play games, draw on the display without even touching the screen, or control your phone using gestures.
Beyond the Phone: Democratizing New Technology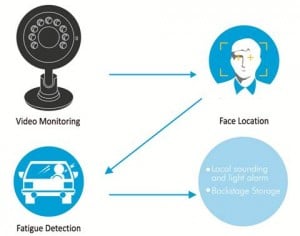 Automotive Sector. But beyond the phone and NUIs on phones, the interesting thing about embedding Capri inside a mobile device is that you can extend the sensor's capabilities to other applications. For instance, from the video, you can see that a car with PrimeSense's sensor inside can alert the driver if they're not paying attention to the road. Rather than requiring a user to buy a new car with this sensor, perhaps a phone mounted on the windshield or a dashboard can provide GPS navigation instructions while at the same time sensing the driver's eyes and see if the driver is fatigued, distracted, or not paying attention to driving conditions.
This would be a huge deal as a phone embedded with a Capri chip would be less costly than buying a car with eye-tracking add-on packages to warn a driver if they're distracted. This could bring this expensive technology to any car owner and could help to improve road safety for everyone.
Gaming at Home. Rather than buying a game system with PrimeSense's sensor, perhaps you can connect a powerful smartphone to your HDTV and have your phone's Capri sensor sense your body motions for immersive game play, like what Xbox Kinect offers today. As phones become more powerful, these mobile devices could have the potential to not only replace your computer, but also your game system and allow you to interact and play games on a mobile device like never before.
The possibilities are endless and the smartphone, which has already replaced gadgets like standalone point-and-shoot cameras, GPS units, and PDAs, can become more integral in one's life thanks to smart sensing.
In and Around the Home. Typically, many users carry their phones everywhere–even to bed. However, if you own a tablet, chances are you're only using your tablet for specific tasks when you feel your phone's screen is too small–like browsing the web at home on the couch, or reading an e-book or watching a YouTube video. However, given that tablets still aren't carry-everywhere devices as the larger footprint isn't quite as mobile as a 5-inch or smaller smartphone, there's a lot of downtime for tablets. And with Capri embedded, you can put your tablet to work in its downtime.
In this example, if you don't take your tablet to work and it's sitting idly at home, you can harness your tablet's hardware and put it to good use. Rather than buy a home security system, why not mount your tablet in an appropriate place, and if the Capri sensor detects motion when no one is supposed to be at home, you can have your tablet message you with a home intruder alert. This would definitely cut the cost of expensive home security system if you don't need additional features. This can also be taken with you too when you're traveling if you want to monitor your hotel room, for example.
Mobility is Key to Democratization
Thanks to the mobile nature of smartphones and the increase in processing power of these gadgets over the last few years, we have powerful systems that are affordable. Adding the Capri sensor would not only help to change a way a user interacts with the phone, but could also extend the phone or tablet into new environments. In the car, it could help drivers be more safe without spending thousands on an extra auto package and in the home, it could help users monitor and secure their environment without costly wiring or an expensive security system. These are only a few examples of how Capri could help bring expensive technology to the masses with a little bit of ingenuity, some chips, and a smartphone.