Archos Internet Tablet to be Announced on September 15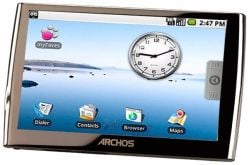 Forget the guessing game about Apple and its many Tablets. Archos has set a date to announce its Internet Tablet and that date is September 15.   I'm guessing Steve Jobs won't be at this event. As reported earlier, the Archos Tablet will use Android as its OS.
Archos has also announced that AppsLib is now open for registration. AppsLib is a directory for Android Developers and the apps they create for "high-end" Android devices. The registration is free until September 15, which as we said above is the launch date of the device.
Pocketables via SlashGear