Are PS4 Black Friday Deals Worth Buying?
The Black Friday 2014 ads are rolling out with confirmation of many PS4 Black Friday 2014 deals. This year there is one main deal — a PS4 Black Friday Bundle with two free games for $399.
We're already hearing from users asking if they should wait until Black Friday to buy a PS4 and if the PS4 Black Friday bundle is worth buying.
Here's what we know about the PS4 Black Friday 2014 deals, and exactly how much you're actually saving over buying a PS4 today without dealing with lines and online sales that may start in the middle of the night.
We'll also recap where you can find the PS4 Black Friday 2014 deals online and in store. We'll see more of these PS4 deals this month, especially in the GameStop Black Friday 2014 ad, so keep your options open.
Here's a look at the five important details buyers need to know about the PS4 Black Friday 2014 deals. Many times bundle is a bad word for consoles, but for Black Friday 2014, it's looking like a deal you need to check out.
PS4 Black Friday Bundle Contents
The PS4 Black Friday Bundle is $399, which is the same price as the standard PS4 console you can buy today. For this price you get a new PS4 with a 500GB hard drive, an ear bud, DualShock 4 wireless controller and other cords.
Also included in the bundle is The Last of Us Remastered. This is an update version of the hit PS3 game for the PS4 with new graphics and tons of content. This is a digital copy only. You may be able to sell the code if you don't want this game, but you can not play it and then trade it in or give it away later.
There is a PS4 GTA 5 game included in the PS4 Black Friday bundle. This is the new and updated version with better graphics and a first person mode. In most Black Friday ads this appears to be a physical copy that you can play, trade and sell.
PS4 Black Friday Savings
Even though you're still paying $399 for the PS4, the bundle offers significant savings, although not as much as many ads proclaim.
The PS4 GTA 5 release arrives on November 18th and the game is $59.99, so right there you are at almost $60 in savings.
When it comes to The Last of Us Remastered, the game is $49.99 digitally through Sony, but there are other deals out there. We've seen The Last of Us Remastered digital codes go for as low as $27 and the disk through Walmart for $42.
Ultimately you're still saving at least $90 off buying the games separately. If you can sell the code and GTA 5, you can likely recoup close to this amount towards games you want to buy, if these are not the PS4 games you want.
Where to Buy PS4 Black Friday Deals
With the Black Friday 2014 ads arriving fast and furious, it looks like any place that sells the PS4 will offer this PS4 Black Friday bundle. Here's where the PS4 Black Friday 2014 deals are confirmed for, or shown in a leaked ad;
Almost all deals start on Thanksgiving day when doors open at 5 PM or 6 PM. You'll be able to purchase most online instead of waiting in store, but there are no gift card bonuses to sweeten the deals.
PS4 Trade In Deals
The big thing you need to look for, to really sweeten the PS4 Black Friday deals are trade-in offers for the PS3 or Xbox 360.
GameStop just stopped a $125 credit for these systems, but there is a chance that they will bring it back as part of a Black Friday 2014 deal.
If you can stack a trade in with the PS4 Black Friday bundle, you'll score an excellent deal.
Other PS4 Black Friday Deals
If you don't want the bundle you can still get a PS4 Black Friday deal at Walmart where you buy the regular version and get a $50 gift card. That's the best we've seen yet, but we are still waiting for the GameStop Black Friday ad to arrive. Here are other PS4 Black Friday deals that gamers need to know about.
$20 off PS4 Controllers
$15 to $55 of Headsets and Headphones for Gaming
PS4 Games for $19 to $45 including new and recent releases.
Look to save big on pre-owned games as well, with Buy One Get One or Buy Two Get One deals including PS4 games.
Black Friday 2014 Deals & Ads
Walmart Black Friday 2014 Ad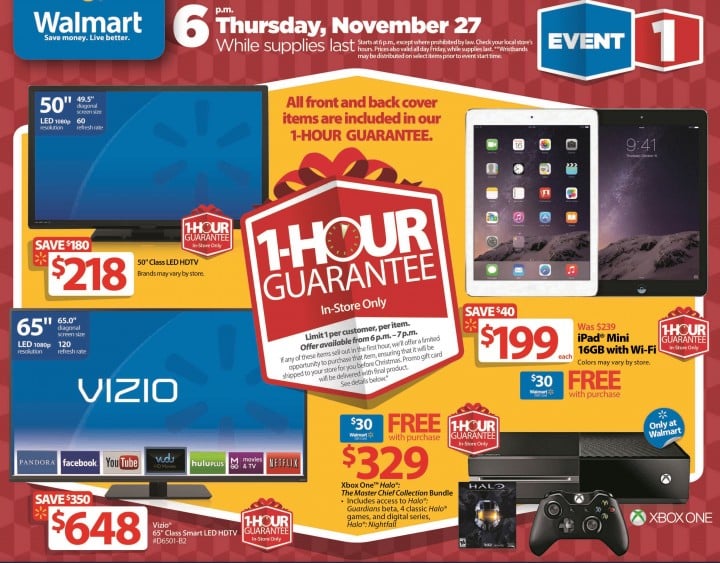 Walmart Black Friday 2014 deals start at 6PM on Thanksgiving and roll all the way through Cyber Monday. There are three specific events on Thanksgiving and Black Friday 2014, including nine 1 Hour Guarantee items that are in stock or you can get it by Christmas at the Black Friday price.
This includes a 65-inch Vizio HDTV for $648, the Xbox One with Halo for $299 after gift card rebate and an iPad mini for $169 after gift card.
You can check out more details on how the Walmart Black Friday 2014 1 Hour Guarantee will work. Duncan Mac Naughton, chief merchandising officer at Walmart states, "We've taken significant steps to improve the 1-Hour Guarantee process from beginning to end. It's simple and seamless."
Walmart beat our Xbox One and PS4 Black Friday 2014 predictions with big savings on the Xbox One and the PS4 GTA 5 and The Last of US Remastered bundle for $399. Here's a look at the nine guaranteed in stock items for 2014.

50" Class LED HDTV for $218 ($180 savings)
Vizio 65" Class Smart LED HDTV for $648 ($350 savings)
Apple iPad Mini 16GB with Wi-Fi for $199 with a $30 Walmart Gift Card ($70 value)
Xbox One Halo "The Master Chief Collection" Bundle for $329 with a $30 Walmart Gift Card
RCA 7" Google Play Wi-Fi Tablet for $29 (special buy)
Samsung Galaxy Ace Style on Straight Talk Wireless for $29 ($100 savings)
LG Blu-ray Disc Player for $35 (special buy)
Beats by Dr. Dre Wireless Headphones for $149 ($130 savings)
HP Intel Celeron Touch Laptop for $249 (special buy)

You can see the full Walmart Black Friday 2014 ad and deals online now. Wlaamrt will post store maps on November 18th and share more detials as the event approaches.

As an Amazon Associate I earn from qualifying purchases.