Are These Photos of the iPad mini 2?
What may be leaked photos of the next-generation iPad mini are making the rounds. The photos show what's claimed to be the rear aluminum shell of the iPad mini 2. The shell largely looks similar to the iPad mini currently on shelves, but it has blue logos and appears to be thicker.
Launched late last year, Apple's current iPad mini notably lacks a Retina Display.  Some iPad mini users complain that it's difficult compared to read text on the current iPad mini compare to the full-sized iPad and iPhone 5. Industry watchers expect the next generation iPad mini to feature a Retina Display,which will match its larger sibling in terms of pixel density.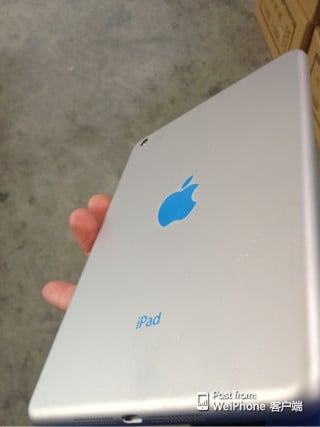 Mobile Pie discovered the photos of the supposed iPad mini 2 shell on a WeIPhone discussion forum.
So why would Apple go with a thicker iPad mini design? Adding a Retina Display would mean it would consume energy faster, necessitating a bigger battery to maintain the advertised 10 hours of battery life. This wouldn't be the first time the iPad lineup's gained some girth and weight. The iPad 3 and iPad with Retina Display (iPad 4) are significantly thicker and heavier than iPad 2.
Of course the most obvious difference between the iPad mini shell in these pictures compared to the current iPad mini are the blue Apple and iPad logos. Apple could be adding a splash of color to the iPad mini, but it's more like that it's part of the process of finishing the back of the device.
It's important to note that these photos are taken from close angles with what appears to be a smartphone camera. The thicker appearance could simply be lens distortion. It's also impossible to confirm that these iPad mini 2 parts are legit and come from one of Apple's partner's factories.
The next iPad mini will likely launch in fall of this year in time for the 2013 holiday season. Apple did  refresh the full-sized iPad just a few months after releasing the iPad 3, but that was primarily so it could have the same Lightning adapter as the iPhone 5 and iPod touch.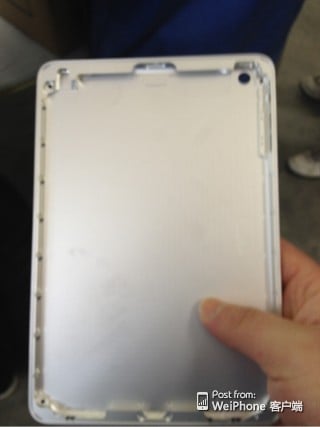 This iPad 2 mini shell viewed from the front. The camera, volume rocker, home button and lock slider cutouts appear to be identical to the original iPad mini's.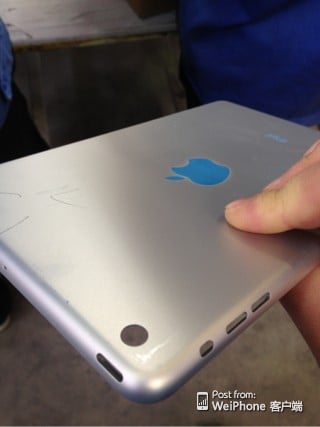 This view of the supposed iPad mini 2 shell makes it look significantly thicker than the original iPad mini.

As an Amazon Associate I earn from qualifying purchases.