Are You Buying the New Apple TV?
Will you buy the new Apple TV? Along with the new iPad, Apple launched the updated third generation Apple TV. The biggest new features include 1080p HD and a new interface.
The biggest change to the Apple TV is the increased resolution, which will take advantage of most HDTV's capabilities. The previous version of the Apple TV was limited to 720p. Apple will offer 1080p video rentals to match.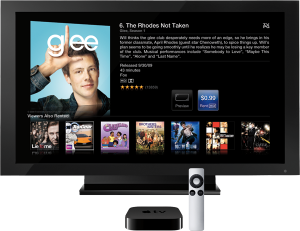 Apple really promoted HD today at the new event. For those who don't have an Apple TV already, getting 1080p might be a nice feature, but is it worth upgrading from the old model?
Speaking of power, the processor got a speed and power boost to. This lets the device handle the higher resolution video. The rest of the Apple TV looks the same with the same basic ports and connections.
Some industry watchers predicted that Apple would release a full-fledged HDTV with Apple TV features backed into a large display. Siri is one feature some hoped would make its way into such a device.
For better or worse the new Apple TV is an evolution rather than an all new device. Are the updates enough for you to buy one? Are you holding off for the Apple HDTV? Or are you planning to buy something else?
[polldaddy poll=6015451]