Are You Getting Google Wallet With the New Update on Verizon's Galaxy Nexus?
Those who have received their OTA update notification to download and install the long awaited Android 4.0.4 software update to their Verizon Wireless 4G LTE-capable Galaxy Nexus smartphone are reporting that on some devices are able to download and install Google Wallet directly from the Google Play Store without any modification or tweaks. It's been rumored in the past that Verizon had blocked Google Wallet from being installed on its Galaxy Nexus, which does have the NFC hardware required, due to the fact that Verizon is part of a consortium with T-Mobile USA and AT&T to launch its own mobile wallet competitor through ISIS.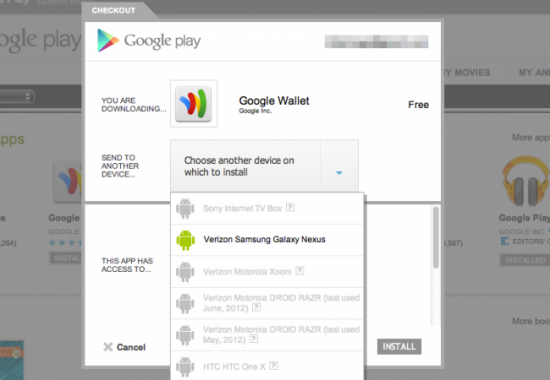 At this point, however, it looks like Google Wallet availability for the Verizon Galaxy Nexus isn't a universal thing. Unfortunately, that means that some users are seeing the download option on Google Play Store while other users, like before, are being blocked from installing. It's unclear though how Verizon or Google are determining which devices get Google Wallet compatibility or not.
Droid-life is reporting that some of their devices are eligible while Phandroid is reporting that the download links aren't available on their updated devices. We'll have to wait until either Verizon or Google comments officially on Google Wallet support on Verizon phones.
At its core, Google Wallet associates a Mastercard, gift card from participating retailers, or a Google prepaid Mastercard for payment. Rather than requiring users to carry a wallet with a credit card, they can now leave their wallets and just have their phones to pay for goods and services at participating physical retail locations by holding their phone up to an NFC scanner for authentication. The idea is that your phone can now replace your credit cards and also deliver you offers and promotions as well at checkout.

As an Amazon Associate I earn from qualifying purchases.