Are You More Likely to Pay for Content on iPad and mobile devices?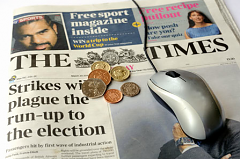 The dead tree publishing industry is still figuring out how to make money by publishing its content online. One example is the The Times, which has begun requiring users to register and pay for some content, including the Sunday Times. The newspaper is prepared to lose 90% of its Sunday readership in exchange for a paying, more loyal audience. According to one report, only 15,000 Sunday Times pre-paywall readers are willing to pay for access. However, the unofficial tally of iPad users paying for Times rings in at 12,500.  That's pretty impressive considering that the iPad's only been out for a few months.
I haven't checked out The Times application myself since it's only available to UK iPad users, but I assume its UI is a lot more touch and mobile friendly than its online counterpart. At £9.99, it's a little but above an impulse buy.
With so much information being available for free out there, is it any wonder that people aren't clamoring to pay for news in a full browser?
Even registering for sites to view content without paying is a pain. For example, I wanted to read a few articles at NYTimes.com today, but after clicking on the headlines I was asked for my email/password. Having forgotten my password, I clicked on the 'forgot password' link, entered my email and encountered a system error.
What did I do to get around it? Simply launched the NYTimes app on my iPad to read past the headline.
It's clear that at least some people are more willing to pay for apps than access to news sites. But I wonder how many of us are doing this for the novelty. When I first bought my iPad I bought a couple magazines, including GQ, but was disappointed as it seemed there were more ads than articles.
Are you willing to pay for the content you love on an iPad or other mobile device?
via PaidContent