Are You Ready to Rent the New Office From Microsoft?
We've known this has been coming for awhile now. Microsoft wants to move all those Office users into its Cloud. That's what Office 365 is all about. No more boxed software, but instead customers pay an annual rental or subscription fee and have access to Office 365 that way. It's a bold move for Microsoft and the recently announced pricing structure for the next round of Office reflects that Microsoft really wants you to jump on that bandwagon. Essentially, Microsoft is offering its various versions of Office 365 at pricing that it hopes will make the move attractive to users.
If you're a home user with a family, or a single user who might have multiple machines, Office 365 Home Premium is probably the package you'll be looking at most closely. A single subscription will cost you $8.33 a month or $99 per year. You'll get be able to use the product on up to 5 PCs or Macs. You'll also get extra SkyDrive storage thrown in (20GB) and 60 free Skype minutes to sweeten the deal. Compare the above to the non-subscription method. To get the same Apps (Word, Excel, PowerPoint, Outlook, OneNote, Publisher, and Access), you'll need to purchase Office 2013 Professional at a cost of $399. That price gets you one license for one computer. A Home Student version without Outlook, Publisher and Access can be had for the non-subscription price of $139.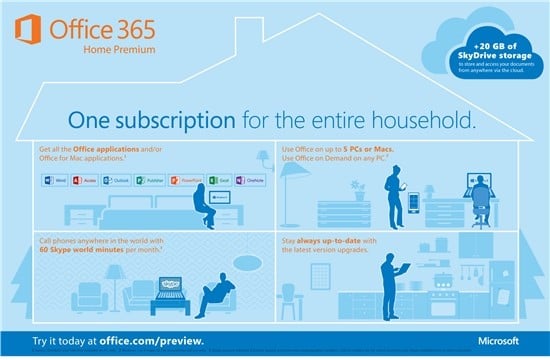 On the small business side of things Microsoft offers Office 365 Small Business Premium for which you pay $149 for each user. That price allows each user to install all of the Apps listed above on up to 5 computers. The equivalent non-subscription pricing for Office Professional is $399.
With the subscription offerings, MIcrosoft is also promising easier access to updates and customization that follows each user around. Free trials will be available. And, if you pick up a copy of the current boxed versions of Office 2010 for Windows or Office 2011 for the Mac by October 19, you can get a free upgrade to the newer software or one year of Office 365 for free.
So, are the pricing incentives enough for you to think differently about Microsoft's Office software? Microsoft surely hopes so.