Are you watching The Ten Commandments on your iPad?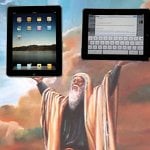 Kevin Purcell at our sister blog, Notebooks.com, posted his "iPad Beatitudes" last night, along with this image of Moses holding up a pair of iPads. (Be sure to hop over to check out the full post.) Humorous stuff, but this morning it occurred to me that The Ten Commandments is playing on ABC tonight (which is right now) as it does this time every year.
So, Apple announced in January they were shipping a tablet in late March. Many have called it, jokingly, the most important tablet since Moses walked down the mountain. The iPad was subsequently delayed to the first weekend of April – Easter weekend – on the day ABC is showing the movie, The Ten Commandments, the story of Moses.
Now, I'm not saying Apple chose this weekend in order to enhance the "magical" – or should I say "miraculous" – aura of the iPad. Nor am I saying they timed this out with ABC, a prominent Apple ally due to the Steve Jobs-Disney connection, who has not only run what is basically a 30-minute iPad commercial and but also has their own iPad app to watch their shows (including The Ten Commandments?). But c'mon, that's really, shall we say, peculiar timing, right?

This article may contain affiliate links. Click here for more details.