ARMOR X10gx Rugged Tablet Now Sprint Certified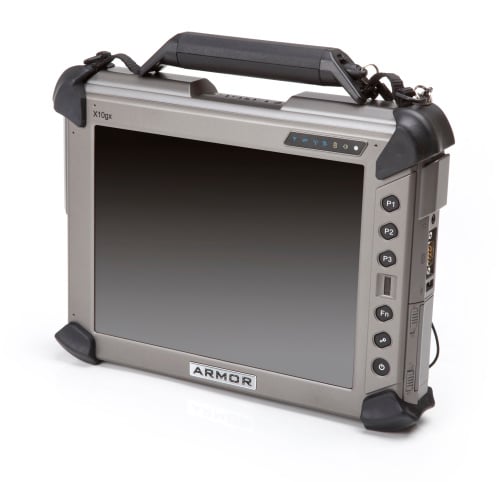 Just got word that the ARMOR X10gx rugged Tablet PC is now certified for the Sprint 3G network. While built-in mobile connectivity is falling out of fashion due to mobile hotspot and phone tethering, not many of those devices are designed to take a beating. For reliability in harsh environments, on-board connectivity in a tough device is often the only option.
Nothing new on the specs; the X10gx is still a rugged tablet with pen + resistive touch input on its 10″ display. Its integrated Gobi® 2000 WWAN mobile broadband radio is now approved for the Sprint 3G network. For more details, check out the website and/or my review, including video of it in action.
ARMOR™ X10gx Rugged Tablet Computer Achieves Certification from Sprint

PARSIPPANY, N.J., April 20, 2011—DRS Technologies, Inc., a Finmeccanica Company, announced today that the ARMOR™ X10gx rugged tablet computer has been approved for connectivity on the Sprint 3G network. This certification will enable ARMOR customers that utilize the integrated WWAN capabilities of the X10gx on Sprint's network to experience the benefits of a seamless data and communication exchange.

The ARMOR X10gx met several technical requirements to achieve certification on Sprint's network. The fully rugged tablet was tested in several key functional areas, including: antenna performance, network selection, network impact, regulatory confirmation, and data connection management.

"This certification demonstrates our commitment to offering robust rugged mobile solutions, especially given Sprint's industry-leading open approach to product development," said Mike Sarrica, vice president and general manager for DRS Tactical Systems. "Strong connectivity is a critical requirement of the mobile workforce, which is among several other benefits that the ARMOR X10gx offers. Users will certainly get that from Sprint's network."

The ARMOR X10gx features a range of connectivity options that go beyond WWAN, including Bluetooth® wireless, integrated GPS, and 802.11 a/g/n WiFi. With a weight of just 4.7 lbs., it is specifically-designed for those mission-critical tasks that require connectivity, mobility, ease of use and the durability to support all-weather operations. Integrated Gobi® 2000 WWAN mobile broadband radio keep the user connected on multiple wireless networks. The X10gx is certified to MIL-STD-810G for extremes in temperature, vibration, shock and drops, and carries an ingress protection (IP) rating of 67, which means it is fully protected against dust and can withstand the effects of immersion in water to depths up to one meter.

Other features include a 10.4" sunlight readable, energy efficient touch-screen LCD display, new docking system, an Intel® Core2 Duo™ Processor with up to 4GB RAM and Intel® embedded Montevina system architecture, and a 64GB solid-state hard drive with options up to160GB that is user-replaceable. It runs on Windows Microsoft® Windows 7 Ultimate, Business. Additional features and benefits of the ARMOR X10gx can be found at www.drsarmor.com/x10gx.php.