ARMOR X10gx Rugged Tablet PC set to deploy in September
If you're out in the field, getting your hands dirty, and have a need for real mobile computing, i.e., the kind that can handle being dragged through the mud and kicked in the head, the new ARMOR X10gx from DRS Tactical Systems is aiming for you.
This tenth generation machine meets MIL-STD-810G and is even approved by UL for use in explosive and/or hazardous environments. (For the record, I am approved for use in neither of those environments.) Needless to say, most of us don't need a computer this tough, but if you're one of the few that do, you probably REALLY need it. We hope to be able to review this Tablet PC soon, for the computing features not the ruggedness (though it would be fun to pen an ink blog entry out in the rain). Press release below. Full details and specs on their website.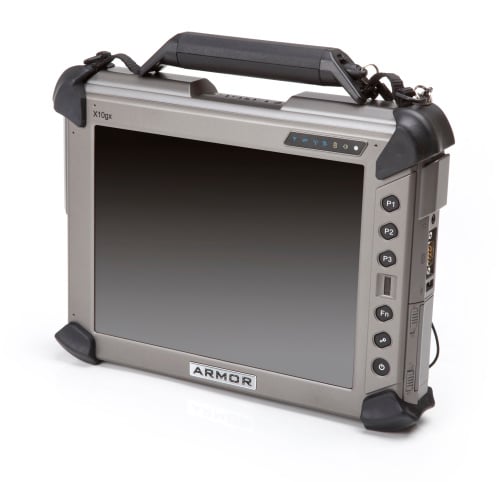 DRS TACTICAL SYSTEMS PRODUCES ITS LATEST RUGGED TABLET BASED ON YEARS OF PAST CUSTOMER EXPERIENCES

PARSIPPANY, N.J., AUGUST 4, 2010 – DRS Tactical Systems, a subsidiary of DRS Technologies, has recently unveiled its newest ARMOR™ rugged tablet computer, the ARMOR™ X10gx. This all-new 10.4″ rugged tablet enhances the efficiency and productivity of an increasingly mobile workforce and is planning to ship by September 15, 2010.

"The ARMOR™ X10gx is our tenth generation offering. We have drawn upon many years of our experience as well as the experience from our military and commercial personnel that have deployed our rugged mobile computers around the world," said Mike Sarrica, vice president and general manager for DRS Tactical Systems.

"To meet the demanding conditions encountered by people working in field service; transportation, rail and port facilities; public safety, and other areas of challenging environments, our new rugged tablet meets MIL-STD-810G and is approved by UL for use in explosive and/or hazardous environments. It also carries an ingress protection (IP) rating of 67, meaning it is fully protected against dust and can withstand the effects of immersion in water to depths up to 1 meter," Sarrica added.

With a weight of just 4.7 lbs. and certified to operate in extreme conditions, the ARMOR™ X10gx also features a new docking system, AT&T wireless certification and an optional integrated Gobi™ 2000 mobile broadband to keep the user connected on multiple wireless networks.

The ARMOR™ X10gx also is equipped with standard 802.11n Wireless LAN connectivity and Bluetooth® v2.0 + EDR (Class 2), as well as integrated GPS. Standard routing of GPS and WLAN to two RF ports allows switching between internal antennas within the unit and external antennas, such as those mounted on a vehicle roof.

Other features include an Intel® Core2 Duo™ Processor with up to 4GB RAM and Intel® embedded Montevina system architecture and a 64GB solid-state hard drive with options up to160GB that is user-replaceable.  Additional features and benefits of the ARMOR™ X10gx can be found at https://tinyurl.com/2dwsope