Arrington Decides to Talk a Little about the TechCrunch Tablet
Once you're outed you might as well go with the flow, unless you want to play the legal game. After pictures surfaced last night of the latest iteration of the TechCrunch Tablet, Michael Arrington has decided to talk a little bit more about the project. Of course if you think that that the pictures leaking was an accident, I've got a bridge to sell you.
In any regard, Arrington spills a few more beans in his post but doesn't come completely clean yet. We know that the latest version is running an Intel Atom Chip and has a 'bottom-up Linux OS'. The browser (remember this is an Internet Tablet) is apparently a custom Webkit build. Arrington says the software footprint is 100MB total.
Arrington says things aren't ready yet, but the pictures of boxes make it look like things have moved beyond the prototype stage. The pictures look nice, the doubters are becoming less skeptical, and I'm guessing that was the point of the leak.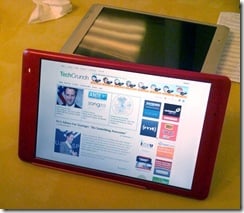 As an Amazon Associate I earn from qualifying purchases.