ArtRage 2 for Ultra-Mobile PCs (UMPC) released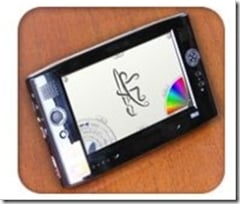 Andy Bearsley of Ambient Design sent me an email over the weekend letting me know about the new release of ArtRage 2 for Ultra-Mobile PCs, a new UMPC version of the highly successful Tablet PC art software.
In this special release for UMPCs, Ambient Design has made some changes tot he UI to make it more friendly to screen realestate challenged devices.
ArtRage 2 for UltraMobile PC is $19.95 and can be downloaded here.
The following is some information form the product page and press release:
ArtRage 2 UMPC is a special version of the Full Edition of ArtRage 2 that has been optimised to work on the UltraMobile PC. ArtRage 2 UMPC has all of the features of the full version, with a redesigned interface that gives you easy access to all of the tools in the product without taking up screen real-estate.
With ArtRage 2 UMPC you can paint and sketch using your whole screen as a canvas, and take your art with you wherever you go.
The interface has been designed to maximise your screen space, collapsing down to compact indicator buttons when you're not using it. Better still, the interface gets out of the way while you paint so that you're never stuck painting under a panel. If you want your whole screen to paint on, you can even dismiss the entire interface with a press of a button on your UltraMobile device.

As an Amazon Associate I earn from qualifying purchases.