Assassin's Creed The Ezio Collection Release: All the Details
Ubisoft's announcement that there'd be no new Assassin's Creed game this year was both genius and a small slight of hand, it seems. Watch Dogs 2 will still fill the franchise's slot in the French company's holiday game line up, but it'll be backed by a very special surprise: Assassin's Creed The Ezio Collection.
When the publisher and game developer revealed that there'd be no new Assassin's Creed entry in 2016 it had just made it through its first holiday season since the damaging release of Assassin's Creed Unity. Gamers were already skeptical of titles with yearly releases and Unity's issues gave them more reasons to be weary. Assassin's Creed Syndicate, didn't sell as well as its predecessors.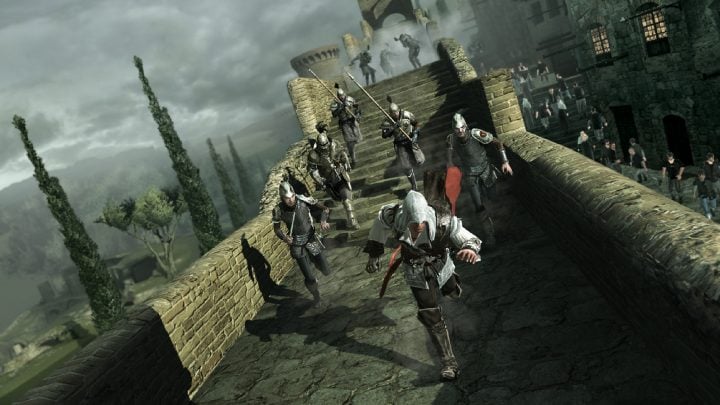 There still won't be a "new" entry in the franchise. Instead, teams at Ubisoft have created an enhanced and updated compilation of all the games in the franchise that focused on Ezio Auditore da Firenze. When it arrives on Xbox One and PS4 later this year, it'll give gamers all of the titles that aren't easily available on their consoles now, for one price.
Why You Want Assassin's Creed The Ezio Collection
In the Ubiblog post announcing Assassin's Creed The Ezio Collection, Ubisoft makes its case for releasing the compilation of games pretty clear. The first game in the series had a different protagonist, Altair. Gamers and critics liked the character, but Ubisoft replaced him in Assassin's Creed 2 with Ezio.
Ezio isn't the focus of the Assassin's Creed movie, but earlier parts of the franchise in Europe are heavily featured, it seems. As his tales take place during the same era, they naturally fit together. Ubisoft wants to give gamers a way to experience something similar to what they're going to experience on the Xbox One and PS4.
These aren't just ports of the original games. Instead, Ubisoft's teams upgraded the graphics in each of the titles so that they'll feel more at home on modern consoles.
In the same blog post, Ubisoft reveals that Assassin's Creed games have racked up 100 million purchases since the series debuted. It's the highest-profile franchise the company has in its arsenal, though its busy trying to create more.
The collection starts with Ezio's debut in Assassin's Creed 2. It continues with Assassin's Creed Brotherhood and Assassin's Creed Revelations. Revelations was the last game to include the character. He was replaced by Native American-turned Assassin Order member Connor Kenway in Assassin's Creed 3. Since then, Ubisoft has kept a revolving door of new main characters. Black Flag had Edward Kenway. Unity featured Arno Dorian. Syndicate had two protagonists: Jacob and Evie Fry.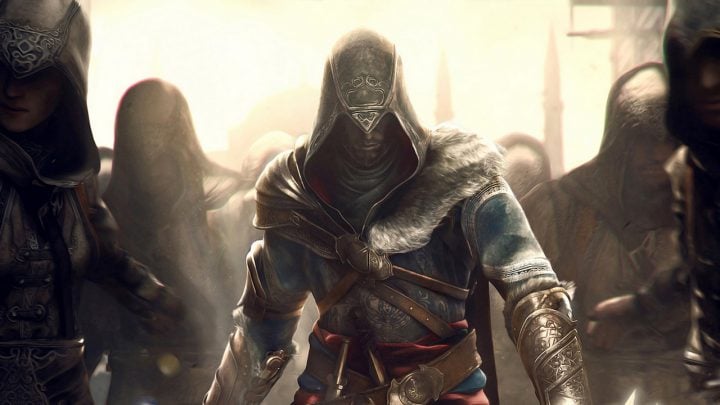 Assassin's Creed 2 is available through Microsoft's Xbox One Backward Compatibility program, but Revelations and Brotherhood aren't. Sony's PlayStation Now service lets PS4 owners experience every game that's in Assassin's Creed The Ezio Collection.
Every recent game in the series has featured a one-off story-related expansion. The Ezio Collection will include those expansions at no additional charge. Buyers also get Assassin's Creed Embers and two other short films. Together, there's 80 hours of gameplay to be had, a listing at GameStop reveals.
Users won't get each game's multiplayer, Ubisoft confirms. Ubisoft isn't releasing the collection for PCs running Windows, either.
Assassin's Creed The Ezio Collection Release Date
The Assassin's Creed: The Ezio Collection release date is scheduled for November 15th. That's around the same time that a new entry in the franchise would typically launch. The Assassin's Creed motion picture launches on December 21st. Coincidentally, the game that replaced Assassin's Creed in this year's Ubsioft holiday line-up, Watch Dogs 2, also launches on November 15th.
Assassin's Creed The Ezio Collection Pre-Orders
Retailers kicked off pre-orders for Assassin's Creed The Ezio Collection soon after Ubisoft's announcement. GameStop has both the PS4 and Xbox One versions listed on its website now. Pre-orders there include a free movie ticket worth $8 off the price of seeing the Assassin's Creed movie.
Amazon's pre-orders include the ticket offer too, plus the retailer discounts all physical new releases purchased with an account that has an Amazon Prime membership attached.
Best Buy isn't offering the game for pre-order yet, but they almost certainly will before the November 15th release date.
All told, Assassin's Creed The Ezio Collection is a solid way for those that joined the franchise in later versions to experience what made the series so beloved in the first place. Hopefully, going back and exploring Ezio's story will also remind veterans of the series why they loved it too. Ubisoft will need both groups on-board if it hopes to rekindle the franchise's hot sales for the next new installment.
Rumors indicate the franchise will return in 2017 with Assassin's Creed Empire. Allegedly, Empire will take players to Ancient Egypt, according to Kotaku.

As an Amazon Associate I earn from qualifying purchases.