Asteco's DigiMemo: Digital Storage of Your Paper Notes
We're seeing more and more of these Tablet-like solutions for note-taking being introduced lately and each seems interesting. Asteco's DigiMemo uses electronic magnetic technology to store text you write on paper for later syncing with your PC. Once hooked up to your PC, it can be also be used as a graphic or writing tablet. I can't find any specific info on this yet, but it looks like there is no special paper required for this, which make the series of pictures on Aving.net very intriguing. The pad of paper looks to be thick enough so the pen strokes aren't being fed directly into the base unit of the device. So, I'm curious as to how this actually works.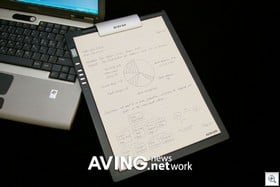 Oh, well. I imagine we'll learn more as time goes by.

As an Amazon Associate I earn from qualifying purchases.