Asurion Handset Insurance Listing Shows BlackBerry Torch 10000 Model
Handset insurance provider Asurion, which partners with most U.S. cellular carriers to offer insurance on smartphones and devices, now lists the BlackBerry Torch 10000 model on its website alongside Apple's iPhone 5. As the iPhone 5 is rumored to be launching in Fall 2012, the BlackBerry Torch 10000 model may not be launched for a while.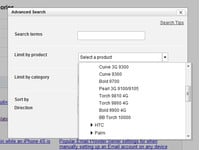 The interesting thing about the BlackBerry Torch 10000 model listing is that it carries a high 5-digit model number. The model number may correspond to the BlackBerry 10 OS, which is said to be experiencing delay.
At this point, it's unclear if the Torch 10000 will be a touchscreen-only device or one that will carry a slide-out keyboard in addition to a touchscreen. With the debut of the BlackBerry 7 operating system, Research in Motion had placed both hardware variants under the same Torch branding. A potential for the device is the BlackBerry 10 Slider that was leaked.
The device is targeted at a potential AT&T release in the U.S. as the information was spotted in a drop-down for AT&T's phone insurance listing.
Via: Phone Arena via pocketnow

As an Amazon Associate I earn from qualifying purchases.