ASUS Announces New Fonepads and MeMO Pads at IFA 2013
ASUS announced two new phones and a pair of tablets at IFA in Germany. They reminded the market about the huge 7-inch phablet smart phone called the Fonepad 7, which ASUS previously announced to go along with a new Fonepad Note 6.
These six and seven-inch smartphones will bring phablet users a new option to compete with the Samsung Galaxy Mega and the Samsung Galaxy Note 3 that Samsung will soon release after their announcement this week. The Samsung Galaxy Note 2 sold well so competitors hope to grab market share by bring out their own phablets.
ASUS jumps into the market with these new phones, one for potential Note 3 customers since it comes with a stylus, but the other seeming more like a Galaxy Tab or Nexus 7 competitor with phone capabilities.
The ASUS MeMO Pad 8 squares off against the iPad mini and possibly the Samsung Galaxy Tab 8.
ASUS Fonepad 6
The Fonepad Note 6 brings with it an active digitizer stylus, like the Galaxy Note, and a 1920×1080 IPS screen. The phone runs on an Intel Atom Z2580 dual-processor at 2GHz. Add to that 2GB of RAM and either 16GB or 32GB of on board storage. Users can add more with a micro-SD card. One weakness is the lack of LTE built into the device, according to the press release.
The phone's battery measures at 3200mAh. The rear camera users an 8MP sensor while the front is a 1.2MP sensor.
The Fonepads only run Android 4.2.2, but come with little other software making it one of the few none Nexus phones with a close to stock OS out of the box.
The Fonepad Note 6 measures 10.3mm thick and weighs 210g. ASUS says it will last up to 23 hours of 3G talk-time and 6.5 hours of video playing.
They will ship with a flip cover, much like Samsung's flip cover for the Note.
ASUS Fonepad 7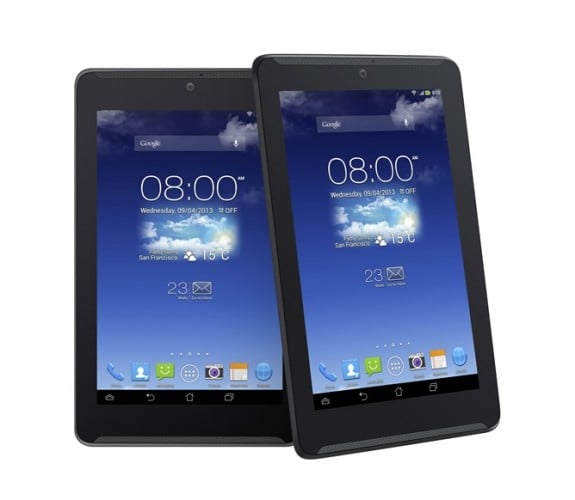 The ASUS Fonepad 7, announced earlier this year and re-announced today, doesn't include the stylus, a strange choice for a larger tablet-like device measuring seven inches. It also gives users a lower end 720p screen resolution and slightly slower Atom Z250 processor running at only 1.6GHz and a single gigabyte of RAM. Users can get one with 8, 16 or 32 GB of RAM. The rear camera only takes 5MP shots. ASUS includes the same 1.2MP camera that ships on the Note 6. The Fonepad 7 also lacks 4G LTE.
The Fonepad 7 seems like a budget tablet designed for emerging markets where people can only afford to carry one device, want a smart phone and a tablet, but don't have the cash to buy a high-end device in each category. So, they can settle for the Fonepad 7.
ASUS MeMO Pad 8 and MeMO Pad 10
ASUS also announced a pair of new tablets called the ASUS MeMO Pad 8 and ASUS MeMO Pad 10. These low-cost tablets measure eight and ten inches and come with 1280×800 720p IPS displays.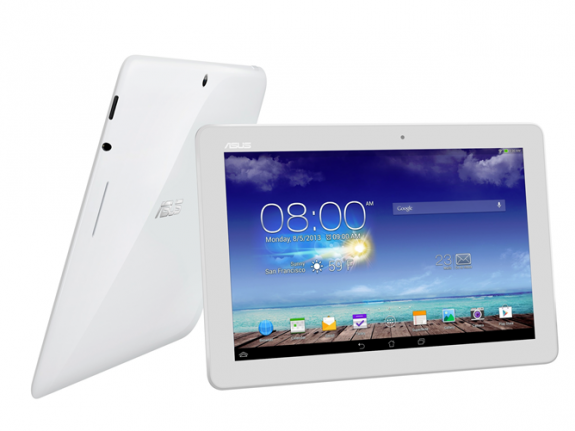 The tablets run Android 4.2 with little other bloatware installed. The MeMO Pad 8 will come with 16GB of storage and a micro-SD slot for further expansion. The MeMO Pad 10 also includes the card slot but adds an option for an 8GB model along with the 16.
Each of these tablets sports a 1.2 MP front camera, but different rear facing cameras. The 8 has a 5MP camera while the 10 only offers a 2MP camera on back. Other specs include:
802.11n wi-fi and Bluetooth 3.0

3.5mm headphone jacks
A GPS on the MeMO Pad 10
3960mAh battery on the 8 and 5070mAh battery on the 10