ASUS Eee Pad Transformer price and release in UK, Slate EP121 too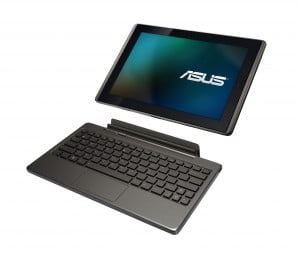 The ASUS Eee Pad Transformer and Slate EP121 just got officially official in the UK. Pre-orders for the April 6 launch of the Transformer start today with prices starting at £379, increasing with keyboard, more storage and/or 3G (available later). The Slate EP121, which is already being advertised here, will launch April 10.
The base price is for the 16GB model without keyboard. Bumping up to 32GB or adding the keyboard will tack on another 50 pounds each. No details about 3G at this time, so that's yet another price and release announcement we're waiting on. No work on U.S. prices either (which means another announcement) and it's rarely a matter of currency conversion, but the EP121 price gives us a clue.
That slate will be priced at £999 for the 64GB model and is initially exclusive to Amazon UK. Amazon US is advertising that model as US$1099. That leads me to expect the Transformer price will start at US$479, which not coincidentally would put it just under the iPad.
Via Slashgear
Transform your life at home, work and beyond with the ASUS Eee Pad tablet

ASUS launch Eee Pad Transformer tablet with Android 3.0 Honeycomb and unique hybrid docking design

ASUS have today announced the launch of the hugely anticipated Eee Pad Transformer tablet – the first to market with Google's Android 3.0 Honeycomb operating system.

Boasting a unique design and up to 16 hours' battery life* the 10.1" Transformer can be used as an independent pad or can be docked with the fully functional keyboard base for a traditional notebook approach.

The Eee Pad Transformer is fun-sized and lightweight – perfect for bags and big pockets. It features a non-slip lid and Corning® Gorilla® scratch-proof screen for a safe and worry-free way to keep connected and entertained in every situation.

With stunning picture and sound quality and Adobe Flash 10.2 support this intuitive tablet offers the means to enjoy a mini-cinema experience, whilst two high quality cameras provide instant support for video conferencing.

What's more – unlimited online storage and access to Android Market opens the door to thousands of applications with one for every need, whilst the ASUS Waveface interface brings a host of utilities to the fingertip including remote access and a personal library for both books and multimedia.

The Eee Pad Transformer will be available from 6th April 2011 at a price of £379 inc VAT for the pad only, or £429 for the pad and keyboard dock.

Key benefits:
* Unique two-part design with docking keyboard
* Android 3.0 operating system & ASUS Waveface Interface
* NVIDIA Tegra 2 dual core processor for optimum performance
* Up to 16 hour battery life for all-day computing (pad + keyboard dock)
* 10.1" LED backlit high resolution, scratch-proof screen
* Lightweight, non-slip design for practical portability
* Front and rear facing high quality cameras
* Access to thousands of home and work applications via Android Market
* 10 Finger Multi-touch support and sensors including GPS
* Preloaded utilities including remote access, work suite and library
* Mini HDMI output to extend stunning visuals to external devices
* 3D Stereo audio quality with SRS sound technology

A world of entertainment, productivity and online content available at your fingertips:

Google's Android 3.0 (nicknamed 'Honeycomb') is a long-awaited new operating system which has been tailored especially for tablets, and brings an uncompromised combination of performance, entertainment and mobile diversity to your hands – whether you are at home, at work or on the move.

Honeycomb and the ASUS Waveface user interface are geared to enrich and make life easier, fun and more productive, with an ASUS Launcher toolbar offering the means to experience a host of applications, online content and services through just a few taps.

56% of users want more applications on their tablet device**, and the Eee Pad Transformer is the perfect solution with access to Android Market; an ever-growing service which offers thousands of applications to download including many for free. The apps database covers a multitude of topics such as home & garden, learning, games, business or shopping.

Applications as complex as piano-playing or multi-player games can be experienced to the max thanks to the 10 finger multi-touch support. Internal sensors such as the gyroscope and G-sensor make movement-based games possible whilst the added GPS and compass modules mean you need never lose your way again.

ASUS Waveface also plays host to a set of helpful and unique utilities:

* MyNet: In 3 simple steps you can wirelessly stream media content between devices around the home including desktops and TV.

* MyLibrary: A clever way to consolidate your must-read books and magazines into one easy-to-navigate profile. Supporting PDF and ePub formats, it offers global content including Googlebooks, and a set of handy utilities to make reading easier including a dictionary, translator, bookmarker, notes and even text-to-speech (requires app download).

* MyCloud: Easy access to cloud content including WebStorage and the ASUS @Vibe media library (which offers downloads of a huge range of music, video and games to enjoy wherever you are).

* MyDesktop: A secure remote log-in application which lets you control files and applications on your other devices via the Eee Pad Transformer – including Android, Windows or Mac computers. So, if you forget to email an important file to work and it's still on your home computer, you can connect to Desktop and do it from where you are.

Android 3.0 is also preloaded with Polaris Office 3 – a professional standard productivity suite which supports the viewing and editing of popular document formats including PowerPoint (.ppt), Excel (.xls) and Word (.doc), making it easier than ever to keep on track with work outside the office.

Switch between a tablet or a notebook to suit your mood and style:

The Eee Pad Transformer does exactly what it says on the box – it transforms. Thanks to a unique docking keyboard, the modernistic device can be used either as an independent tablet when you want a lightweight option to carry around the home or whilst travelling, or with a simple clip-in-place action it transforms into a traditional netbook perfect for longer typing demands or recharging. With such freedom of design you can perfectly tailor the Eee Pad Transformer to suit your tasks at hand.

The portable docking attachment boasts a fully functional QWERTY chiclet keyboard making it comfortable and intuitive for longer use and a obliging response to demand – 33% of users wanted larger keyboards in tablets**.
Additional Android function keys provide a one-click way to control media, brightness and volume or toggle wireless options on or off with ease.

A whopping 16 hour battery life* mean you can stay connected and efficient all day long:

The standalone pad offers up to 9.5 hours of battery life, and charges when docked to the keyboard station. When docked, this already-impressive battery life extends to up to 16 hours – more than enough to keep those active kids quiet on long car journeys. Even the slim-line AC mains adapter (which connects to each half of the device) has been thoughtfully designed so that when you need more time you can still travel light.

A tablet designed for real life: non-slip, bump-proof, scratch-resistant and as light as a feather:

Given the extraordinarily wide range of uses for an Eee Pad Transformer, ASUS have thoughtfully designed it to laugh in the face of life's demands.

Measuring 271 x 177 x 12.98mm and weighing a mere 680g, the curvy pad is barely larger than an A5 piece of paper and lighter than a bag of sugar. Such a portable size means the Eee Pad Transformer is ideally placed to fit into backpacks, handbags, large pockets or even just carry around – the textured lid gives some grip and means it won't slip out of your hand.

The IPS panel screen is made from Corning® Gorilla® glass – a super-strong material which is bump and scratch proof yet still reassuringly lightweight, so when the kids get hold of it to check out the latest homework hints, you can smile and stay worry-free.

Store, share and synchronise with no fuss:

ASUS WebStorage offers unlimited online storage (free for 1 year) to complement the 32GB internal space and provides a reliable and secure means of accessing your data from anywhere, anytime.

What's more, with the inclusion of high-speed wireless (802.11 b/g/n), Bluetooth 2.1, SD/eMMC card-readers and a port to connect and synchronise your PC, it's reassuringly effortless to back-up, store and share your favourite photos and important documents without any additional hardware.

The Eee Pad Transformer is designed for sharing, and even supports 10 finger multi-touch gestures to allow more than one person to play multi-player games on the same device.

Front and rear cameras make sure you can capture the moment in high quality:

The Eee Pad Transformer features two built-in cameras; one on the front (1.2MP) and one on the rear (5MP). With auto focus technology and the ability to record movies in high definition quality, this double-helping of practical technology will make sure you don't miss the best moments in life for sharing.

Not only that, but the Eee Pad Transformer makes it easier to stay in touch with long distance friends and family or work colleagues through video conferencing and to experience the latest virtual reality-based applications and games on the Android Market.

Powerful hardware with spectacular video and sound for versatile, outstanding entertainment at home and on the move:

The Eee Pad Transformer integrates an array of powerful hardware, including 1GB of memory and the super-speedy NVIDIA Tegra 2 – a Dual Core processor which delivers uninterrupted web browsing and fast response times even whilst multi-tasking.

Supporting Adobe Flash 10.2 for rich HD content streaming alongside fast graphics support, the device delivers outstanding mobile game playability for console-quality gaming, alongside a visually engaging and highly-responsive user interface.

The 10.1" LED backlit screen (1280 x 800 resolution) provides the perfect balance between portability and a respectable size for working and watching movies. Visuals are crisper and harbour a 50% more accurate colour range in comparison with other tablets available today, and with a generously wide viewing angle of 178°, it's never been easier to gather friends and family around to share your favourite content in astonishing clarity.

With a mini HDMI port integrated into the keyboard dock, you can also connect external devices to stream photos, video and other content onto a larger HDTV or projector, making this the must-have versatile gadget not only for home entertainment but for professional work presentations too.

Discrete speakers radiate a superior 3D stereo audio experience thanks to the built-in SRS Sound Technology with 5.1 channel, maximum bass response and a wide sound field. Movie and music fans will love the ability to hear every sound in the finest detail, from the creaks and rumbles of horror and action movies to the rhythmic notes of your R&B or pop stars.

A video of the ASUS Eee Pad Transformer can be found on the ASUS Youtube channel at www.youtube.com/asus

Pricing and Availability:

Tablet, 16GB, WiFi, unlimited ASUS Webstorage: £379
Tablet & keyboard dock, 16GB, WiFi, unlimited ASUS Webstorage: £429
Tablet, 32GB, WiFi, unlimited ASUS Webstorage: £429

UK-wide range of retailers including PC World, Currys, Comet and Carphone Warehouse – pre-order online at Amazon.co.uk and Ebuyer.com from midnight today (30th March 2011).

In stock from April 6th (first units will be available in stores and pre-orders will be delivered shortly afterwards)

As an Amazon Associate I earn from qualifying purchases.