Asus, Google Reportedly Working On Nexus 7 Successor
Asus and Google are allegedly working on a successor to the Nexus 7 that includes a 1080p display, according to DigiTimes.
According to the Taiwanese publication the next Nexus 7 will sell for the same price as the current version, with models at $199 and $249. The new tablet will allegedly have a 1080p display and a thinner bezel around the display. The report also mentions upgraded specs, but there's no specifics on what those are.
It is important to note that DigiTimes doesn't have the greatest track record with leaks, but a Nexus 7 with a 1080p display sounds reasonable.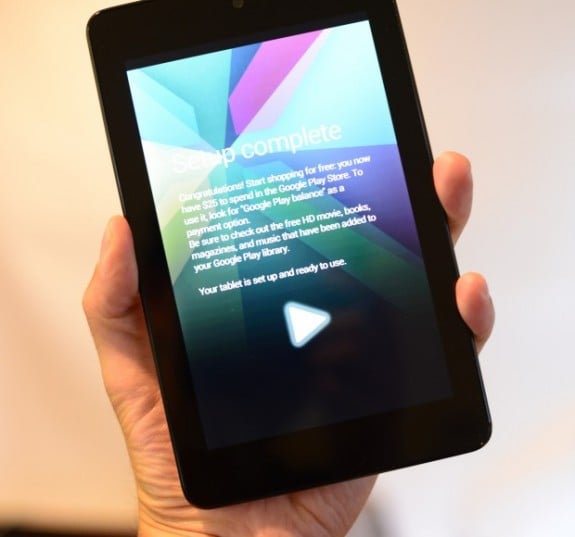 The current Nexus 7 has a 7-inch display with a resolution of 1280×800, which is just over 720p. Inside, the device uses a quad-core NVIDIA Tegra 3 processor and comes with either 16GB or 32GB of storage space.
If Asus and Google use similar parts for the next Nexus 7, the new device could use the new NVIDIA Tegra 4 processor. The new NVIDIA processor is also a dual-core chip, but it has a total of 72 graphics cores as well. That means it's better for 3D gaming than the current Tegra 3. The multiple graphics cores will also help the device power the higher resolution display, hopefully without slowdown or lag.
While DigiTimes says Asus will make the follow-up to the Nexus 7, previous rumors said LG will make the next 7-inch Android tablet dubbed the Nexus 7.7. According to that rumor, the new device will use a 7.7-inch 1900×1200 display (just over 1080p) and an NVIDIA Tegra 4 processor. The rumor also claimed the device would start at 8GB, which the current Nexus 7 started with as well.
No matter which company will make the next 7-inch Nexus device, the tablet will likely debut at Google I/O, which starts on May 15. The event could also see the release of a rumored Nexus 5 smartphone successor to the Nexus 4.

This article may contain affiliate links. Click here for more details.