A Week with the Asus N10 Business Netbook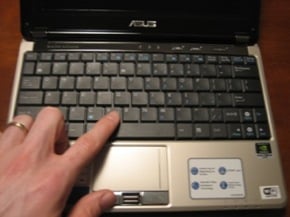 The Asus N10 Business Netbook has been primary computer for the past week, and I have been impressed with its features, performance, and usability.   The N10 highlights the benefits of the netbook form factor; the N10 is easy to transport and offers reliable features that increase productivity.   Let's examine a few things that set the N10 apart from the competition, and look back at a busy week of computing.
N10J Specs:
Model: N10Jc-A1
Price: $649
Display: 10.2″ WSVGA+ (1024 x 600)
CPU: Intel Atom 270 1.6GHz
RAM: 1GB DDR2 533MHz up to 2GB
Graphics: Intel GMA950 onboard + NVIDIA 9300M GS – 256MB (switchable)
Storage: 160GB 5,400RPM
Battery: Six-cell
O/S: Windows XP Home Edition
Wireless: Intel 802.11 B/G
Webcam: 1.3 Megapixels
Wired Internet: 10/100/1000 Ethernet
Ports: 3 USB, HDMI-out, VGA-out, ExpressCard, 8-in-1 Media Reader
Weight: 3.5lbs with battery
Dimensions: 10.8 x 7.6 x 1.2″-1.4″ inches (WDH)
Warranty: 2-year Global / 1-year Accidental Damage / 30-Day Zero Bright Dot / 2-way FREE standard overnight shipping / 24-7 tech support
Accessories: Carrying bag
Asus Express Gate Instant-On
While it is true that the quick-boot, Express Gate loads in around five seconds, it takes anywhere from 8-15 seconds before you're up and browsing.   This largely is due to the first menu that loads and then having to select your main task.   Regardless, 8-15 seconds from off to surfing is the fastest experience I've ever had.   Here's what the official reviewer guide says about the N10's Instant-on capabilities,
"Express Gate is a quick-boot Linux environment you can use for times when you don't want to
wait for Windows to boot. With the system turned off, just press the button with the lightning bolt
on it and you'll arrive at the Express Gate screen in around 8 seconds. From there you can easily
access the above applications quickly and easily."
The Express Gate quick-boot function was much more useful than I anticipated.   I had the opportunity to take the N10 to a professional conference with several sessions, and I loved having the ability to quickly boot and surf.   In one session the speaker was discussing a web site.   Several participants had their computers out taking notes and viewing related content.   The benefit of Instant-on meant that I could quickly boot and search Google for information pertaining to the session.
Instant-on also provided me the opportunity to reach the clouds.   I was able to access my web 2.0 desktop, Glide OS, to check email, take notes, and upload files.   Similar cloud computing services are enhanced with the quick-boot feature which I anticipate will one day be standard on all netbooks, notebooks, and desktops.   The transition from personal computer to household appliance is the next step of progression for our daily computing needs.   Nobody waits 35 seconds for their television or microwave to turn on.
Asus Warranty:
The Asus N10 features a much stronger warranty package than the Eee PC series or other typical netbooks on the market.   This model comes with standard two year hardware coverage, one year of accidental coverage which includes spills, fire, drops, and powers surges.   Asus is willing to pay for shipping both ways if the N10 unit ever needs repair while under warranty.   This selling point helps position the N10 for mobile business professionals that are often on the go and hard on their electronics.
Some folks throughout various forums and netbook land don't refer to the N10 as a netbook because of its higher price and advanced features, but the official reviewer guide is subtitled, "An ultra-portable Corporate Netbook with
Advanced Features and Switchable Graphics."   It's clear that the N10, while having higher-end features, still fits the netbook model.   You may pay a little more, but you also get what you pay for: a solid netbook with a strong warranty, instant on capabilities, and advanced graphics offerings.
Check out the following pics to see the N10 up close.
The N10 easily competes with the HP 2140 which is also marketed towards a business/professional user.   A nice sized, responsive keyboard, advanced graphics features, excellent warranty, and Express Gate Quick Boot make the N10 an easy sell for the mobile professional.
Learn more by visiting the official Asus web site, and read more about the Asus N10 Netbook in this GBM first-look video.

As an Amazon Associate I earn from qualifying purchases.