Asus officially announces the R2H Ultra-Mobile PC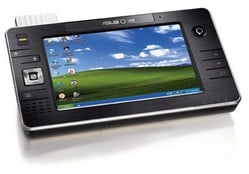 Early today, I reported that it appeared that Asus would be announcing their R2H Ultra-Mobile PC / Origami. Well, the official press release from Asus has been posted on their website. There is no word on pricing or availability.
Here are the specs:
R2H Specifications
Intel® Celeron® M ULV Processor (900MHz)
Genuine Windows® XP Tablet PC Edition
Onboard 256MB, DDRII 533, 1x SoDimm socket for expansion up to 768MB
DDRII 667 DRAM support
7″ WXGA touch screen LCD, ASUS Splendid Video Intelligent Engine
PATA 1.8″ HDD 4200PRM 20/30/40/60 GB
Bluetooth® V2.0 + EDR, 3x USB, 1x SD Card-Reader, 1x GPS, 1x Finger Print Reader
23.4 x 13.3 x 2.8cm, 830kg
1.3 megapixel camera ( Thanks for pointing that out, Loren!)
Here is the press release and a link to the press release on their website ( big kudos to Big Wes for the link )
ASUSTeK Computer Inc. (ASUS), a leading provider of high-performance notebook computers, today unveils the latest R2H Ultra-Mobile PC. With built-in high-resolution webcam, incorporated global positioning system (GPS) and biometric fingerprint authentication, the 7-inch ultra compact R2H is designed to fulfill the increasing need for an all-in-one mobile device that enables professionals to stay connected, productive and secured on the go.
Solid Security Management for Protected Computing
To give business travelers peace of mind, the R2H offers total data protection that meets the evolving security needs with both software and hardware solutions.
The protected computing starts with fingerprint authentication that grants strict access only to the designated owner. For the most accurate reading, t he electronic imaging mechanism scans fingerprint pattern from the live layer of the skin , bypassing any common skin surface conditions.
The exclusive ASUS Security Protect Management (ASPM) guards access to the device and network. U sers can choose to setup multi-factor authentication requirements for different security levels while enjoying the Single Sign On (SSO) one-time login convenience without compromising security integrity.
Intuitive Usage Experience
The R2H runs on Windows ® XP Tablet PC Edition with Touch Pack software and ergonomic hardware interface designs. With complete function keys laid out on both sides of the front panel, users enjoy comfortable operation to a full set of control keys, including mouse, scroll buttons, hot keys as well as on-screen keypad, all at the finger tips.
The feature-rich R2H is packed with computing, multimedia and connectivity functions. Built-in
Bluetooth 2.0 EDR ( Enhanced Data Rate), WLAN 802.11 a/b/g and high-resolution webcam offer extensive high-speed connection and wire-free video communication. In addition, satellite GPS provides a comprehensive travel guide that the users no longer need to deal with paper maps or ask for directions! The incorporated GPS antenna with a foldable mechanism allows convenient storage when not in use. Ultimately, the R2H empowers users to go anywhere, do anything!