ASUS R1F Tablet PC Review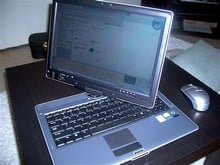 John C. Velesco has published a review of the ASUS R1F Tablet PC on TabletPCReviewSpot.com. He caevats that he is a "regular guy" and that this is a "regular guy" review. IMHO, those are the best kind of reviews to gather information from. John covers just about any issue and does a very thorough job of laying out his findings, along with a good selection of photos. I'd love to see one of these units up close myself.
Here's the link to the review.

As an Amazon Associate I earn from qualifying purchases.