Asus R2H being announced today?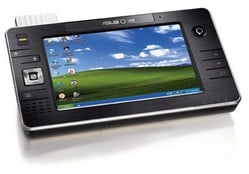 Digit-Life is reporting that Asus will be announcing their R2H UMPC today. I have checked the Asus website and have not seen anything yet, but I will certainly be checking back periodically:
UPDATE: Here is the official announcement from the Asus website. Thanks for the link, Big Wes!
Here is what Digit-Life is reporting:
ASUSTeK Computer Inc. today unveils the latest R2H Ultra-Mobile PC – with 7-inch display, built-in high-resolution webcam, incorporated GPS and biometric fingerprint authentication.
Security is also provided by the ASUS Security Protect Management (ASPM) that guards access to the device and network. Users can choose to setup multi-factor authentication requirements for different security levels while enjoying the Single Sign On (SSO) one-time login convenience without compromising security integrity.
The R2H runs on Windows XP Tablet PC Edition with Touch Pack software and ergonomic hardware interface designs. With complete function keys laid out on both sides of the front panel, users are offered operation to a full set of control keys, including mouse, scroll buttons, hot keys as well as on-screen keypad.
The connectivity functions include Bluetooth 2.0 EDR, WLAN 802.11 a/b/g.