Asus R2H Touchscreen Woes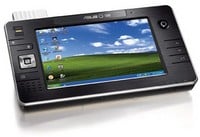 I've been following Jenneth at Gear Diary and her romance with a new Asus R2H UMPC. She's running the later model, which operates on a Pentium-M and comes with Vista pre-installed. At first she was completely smitten, but now she's contemplating a break up. Seems she's run into that Touchscreen issue that has plagued the Asus R2H and can't quite get see going ahead with the courtship unless Asus comes to the tablet with a fix. This issue is the one where the touchscreen just stops registering input from your finger or stylus. I see it occassionaly on my R2H (an earlier model) but not as frequently as others are seeing it with the new models and some older models. There is a suggested fix (installing the ATKOSD2 driver package) but this seems to work for some and not others. Of course installing and reinstalling drivers on the Asus R2H is a hit and miss proposition at best.
Of course, Asus has other screen issues that they aren't paying attention to in a timely fashion either. Like the fact that somehow their screen drivers reverse the x and y coordinates on touch input, which causes any application written with the Windows Presentation Foundation (NY Times Reader) to instantly crash when you touch the screen.
It is a shame Asus isn't a quicker to the punch on this. There have been quite a few R2H users, like Jenneth, who have experienced the first blush of romance fade after some careless touchscreen issues.