Asus R2H Ultra Mobile PC Hardware Inkshow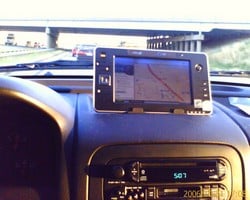 This week I received a new UMPC! The new unit is an Asus R2H Ultra Mobile PC with Windows XP Tablet PC Edition. I've been busy playing, I mean working, with if for the last couple of days, and let me tell you it's been fun. This is my first chance to use this form factor, and so far it has been a great experience. For me, the integrated GPS unit was the standout for buying this unit. In fact, the first day I came home from work with it, I fired up Streets and Trips 2006 and had my own in car navigation system! In this first InkShow, I go over the features and buttons on the outside of the unit and a quick look at the launcher that loads up at startup. Expect more InkShows in the next couple of weeks on some of the included utilities and software installed on the R2H.
Quick first thoughts:
The unit is nice and performs well in my eyes – Office performs well, I have even tested a 3meg OneNote section of all images and it did really well compared to my M4 (and Warner's M200).

GPS unit has good accuracy

The launcher is really cool!

Kind of thick with the extended battery (but I did go about 4:30 mins with it)

The array and configuration of the buttons on the front work well, but some are repetitive

More details coming soon on another InkShow
The links for the InkShow:
All GottaBeMobile.com InkShows are sponsored by:

As an Amazon Associate I earn from qualifying purchases.