Asus Starts to Talk More About One of Its Tablets: Eee Note EA800
Like everyone else who hasn't quite figured out what to do with their Tablet/Slate ideas and who might miss out on this Christmas season, Asus has been teasing Tablets and Slates for quite some time. Well, now there's a bit of news to go with the teasing on at least one of the devices Asus says it is working on.
The Asus Eee Note EA800 is a 8 inch Slate/Reader that comes with a 768 x 1024 grayscale display as well as a Wacom stylus. It's geared for note taking and the publicity says "the ultra-sensitive digitiser captures handwritten notes and sketches in the finest detail."  The specs call that 256 levels of pressure sensitivity.
There's WiFi, microUSB, microSD, and a camera and we won't really see much more about this until next year.
Essentially this is a flare sent up hoping to convince some consumers to save their Christmas dough until next year.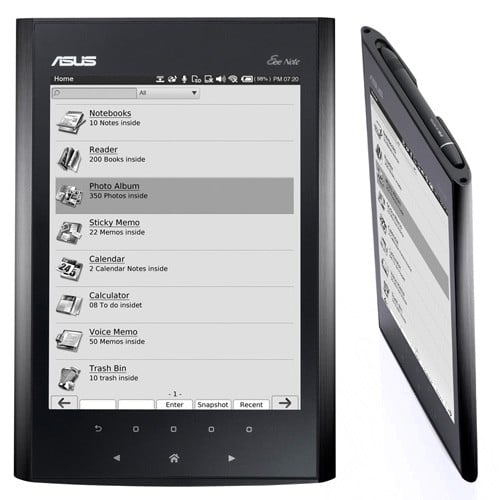 This article may contain affiliate links. Click here for more details.