Asus Transformer Book T100: An iPad-Worthy Windows 8 Challenger
At $349 and packed with Windows 8.1, a detachable keyboard dock, and all-day battery life, the Asus Transformer Book T100 may be the first Windows slate that can go head-to-head to seriously challenge Apple's iPad and tablets based on Google's Android OS. Additionally, the T100's low price point will make it a worthy challenger to cheap Internet-connected computing devices, like the growing number of Chromebooks on the market.
The device has a quad-core Bay Trail processor that will give the tablet about 11 hours of battery life. The 32 GB capacity model starts at $349 and there will be a 64 GB variant priced at $399. Both models feature a 10.1-inch 1266 X 768-pixel display, a micro SD card reader, and 2 GB RAM. There will be an included detachable keyboard dock that will host ports such as micro USB, micro HDMI, and USB 3.0.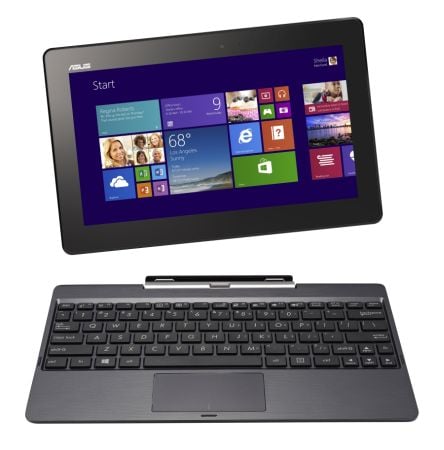 The Transformer Book T100 will be coming to stores starting on October 18 and will arrive pre-loaded with the new Windows 8.1 operating system.
Build quality of both pieces are plastic, but you do get a lot for your money and Asus's Transformer line has been solidly built in the past. This just shows how much netbooks have evolved over the years.
And while the display isn't as high resolution as that found on the Nexus 10 or the Retina Display of the 9.7-inch full-sized iPad, nor does the device come with an active digitizer like on the Galaxy Note 10.1 2014 Edition that supports Samsung's S Pen, the device does have a touchscreen and plenty of power to run all your Windows apps and programs, even the legacy ones. The keyboard dock makes it a good device in laptop mode as well as tablet mode and offers more flexibility–a similar keyboard dock for the iPad would add about $100 to the cost of that slate.
The downside is that the Transformer Book T100 doesn't ship with free access to Microsoft Office. This is unfortunate given that new iPad models are now shipping with Apple's iWork suite that includes Pages, Numbers, and Keynote for creating, viewing, and editing, documents, spreadsheets, and presentation.  A similarly priced Surface RT tablet comes with free Office, though the keyboard on that model is extra and the Windows RT operating system is more limited and won't run full Windows app. With Windows 8, you do have the flexibility of running all programs for Windows, including specialty programs like Microsoft Access, Photoshop, and more.
[Update: Asus includes the Home and Student version of Microsoft Office in the Transformer Book.]
We'll have to test the model out ourselves to see how the Atom-based Bay Trail processor will handle under normal tasks day-to-day. You'll likely won't want to edit a video or do complex Photoshop work on the slate, but web browsing, Office editing, emails, viewing photos, and video play back shouldn't be a problem.