ASUS Ultra-Mobile PC delayed?
–

I want an Ultra-Mobile PC. I see a need for it in my life (okay, so there is some techno lust involved in there too!). But I am not enthralled on the specs, pricing, and experiences I see with the devices out so far. What should be V1 devices, look more to me like V0.5 quality. So I have been holding out in hopes of the ASUS (Asustek) UMPC. According to this story in EMSNow, I may have to wait a while longer: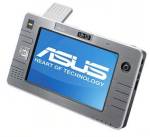 "Asustek Computer Inc., the world's largest motherboard manufacturer and a major notebook computer maker, will delay the debut of its first ultra-mobile PCs by about two months as the products are still in the final stages of fine-tuning, company executives said yesterday. The official launch date will be pushed back to late July or early August, around two months later than the original date, according to Tony Chen (???), general manager of Asustek's notebook business. "We are now enhancing the product specifications with our partners Intel and Microsoft to prepare for the product debut," he said on the sidelines of a product launch. The performance and reliability of the machines, particularly in boosting the gaming experience and battery life, are being maximized to offer users a much better overall experience, said product manager Alvin Chou".
Bummer. I hate waiting on my toys, errr, I mean tools.