Asus ZenBook Pro UX501 is the Ultimate MacBook Pro Rival
With their refreshed internals and design, Apple's MacBook Air notebooks might have put a damper on rivals like the new Dell XPS 13 and Microsoft's own Surface Pro 3. Now its device maker Asus striking back at Apple. This morning the company unveiled the Asus ZenBook Pro UX501, a stunning notebook designed for those who need portability, power and an amazing display.
Asus announced the new ZenBook Pro UX501 in a post on its cooperate blog this morning. In that post the company reveals exactly what it was aiming for when creating the $1799 ZenBook Pro UX501: a stylish power house.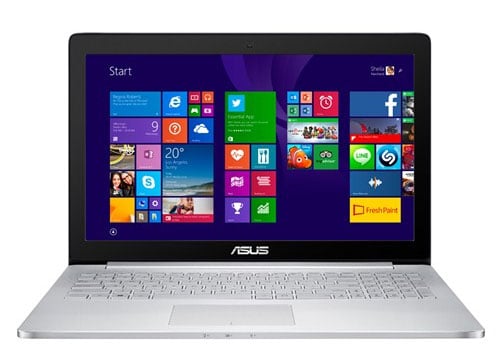 The ZenBook Pro UX501 measures just 0.81 inches from top to bottom when closed. Rather than using plastics, Asus opted for an aluminum shell that has the company's classic rippling effect on the lid. Every edge is rounded, with the space around its enormous 15.6-inch screen acting as a black-bordered focal point for user's eyes. The ZenBook Pro UX501 weighs 5.1 pounds.
Rather than build the ZenBook Pro UX501 around a 15.6-inch display that's merely competitive, Asus opted to go as far as it could. The ZenBook Pro's display has a resolution of 3860 x 2160. That easily puts the ZenBook Pro UX501's display into 4K and UHD territory. What's more, it uses IPS technology for better contrast and has touch for anyone who likes interacting with Microsoft's Windows 8.1 operating system in a more natural way than a mouse and keyboard.
Inside the ZenBook Pro UX501 are other high-end features too. For most people, integrated graphics are fine because they usually mean longer battery life. More battery life means that you can run the display a little brighter or work longer. Asus went in a different direction for the ZenBook Pro UX501. It has a discrete graphics card. More specifically, inside is an NVIDIA GeForce GTX 960M with 2GB of GDDR5 memory. That graphics card is backed up by 16GB of RAM, and an Intel Core i7 quad-core processor. That's a long way of saying, the ZenBook Pro UX501 can and will handle any video game or intense project thrown at it. Those decisions also mean that battery life could take a hit.
Also included are 802.11ac, the latest wireless internet standard, Bluetooth 4.0, a single Thunderbolt 2.0 port, 3 USB ports, an HDMI port for connecting to large displays, and a media card reader. There's also a standard headset jack. Users can take self portraits or video chat using a front-facing HD webcam and an microphone array. Storage is handled by a 512GB SSD. Because there's a 15.6-inch display, Asus had enough room to add a dedicated number pad to the keyboard.
To understand why the Asus ZenBook Pro UX501 is important, you have to examine the PC landscape as a whole. Windows PC makers put the bulk of their effort into moving low-cost and mid-range systems that are perfect for average users, but sometimes pretty lousy at doing things that creative need to do every day. Where Apple has been successful in unseating Windows is with these creative types. The MacBook Pro combines very powerful internals with very good design. The ZenBook Pro UX501 is the latest in a pretty slim set of PCs directed at creatives. Even Microsoft itself recognizes this as a problem. Former CEO Steve Ballmer said in an interview with ZDNet that the Surface line owes its existence to Apple's line of luxury PCs.
Read: Surface Pro 3 vs MacBook Air Ads – How Accurate Are They?
Asus is offering the ZenBook Pro UX501 right now through its online store and what it describes as "select resellers." Whether it'll eventually appear in stores for users to test out for themselves later in the year is unclear.

As an Amazon Associate I earn from qualifying purchases.