$60 Atari Arcade for iPad Out In October
The leaked Atari Arcade joystick controller for iPad has finally been announced officially. That's right: it's real, and it's fabulous. This accessory allows you to play any of the Atari Greatest Hits games the way they were meant to be played. Or, at least, closer to the way we used to play them back in the day. Once you start, it's hard to stop (also just like back in the day). At least this time you don't need quarters.
Discovery Bay Games, who developed the Duo technology behind the joystick's interaction with the iPad, recently announced pricing and availability. It'll cost $60 to get your old school game on and you can scoop one up at your local Target on October 2. It'll be in Toys R Us and the Apple store by November 1 in time for the holiday rush.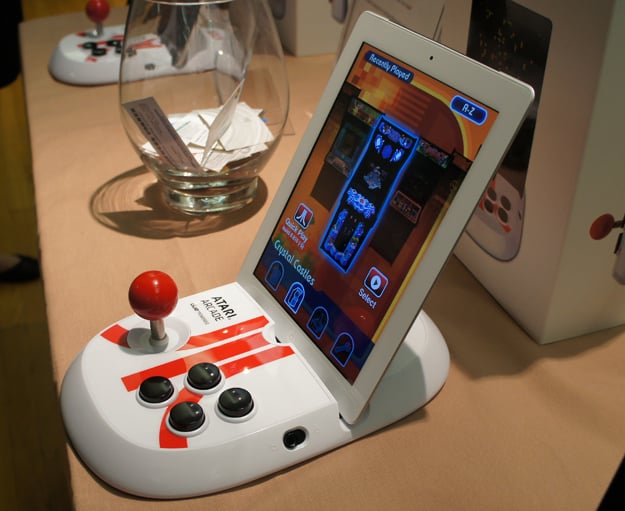 At this price, it's $40 less than ThinkGeek's iCade, which offers similar functionality. Unlike that accessory, the Atari Arcade connects to the iPad's 30-pin connector, not via Bluetooth. This means you can only use it in portrait mode, but that's how the games are oriented, anyway. It will fit both the original iPad and the iPad 2 thanks to a connector that rocks back and forth. Once in, the iPad fits snug thanks to a locking mechanism. Just in case you get a little vigorous while gaming.
The unit is pretty light and made of plastic, so I still have some doubts about how much it will move around if said vigorousness occurs. But in my short time testing it, the dock held its ground pretty well thanks to the rubber feet on the bottom.
I'm looking forward to pitting this against the iCade in a face-off for the holidays.

As an Amazon Associate I earn from qualifying purchases.