Atom Jailbreak Tweak Makes The iPhone Lockscreen More Useful
A new jailbreak tweak called Atom changes the iPhone's lockscreen to add six app shortcuts, making it easier to boot into often used apps.
Atom replaces the familiar slide to unlock feature of iOS with something more akin to HTC's Sense. The lockscreen presents users with a small circle called a "grabber" they can drag on top of an unlock icon in the center of the screen of one of six app icons located around it.
Read: 25 Best Cydia Apps
Dragging the grabber on top of an app icon will unlock the phone and launch into that app, as this video from 9To5Mac demonstrates.
The tweak gives users more options that the current iOS 6 lockscreen which only lets users unlock to their last used app or open the camera. It's also more robust than some previous concepts which replace the camera option with another built-in app.
Users can customize Atom as they see fit. All but the center unlock icon are customizable so users can set their six most used apps to the lockscreen. That includes built-in apps and third-party apps.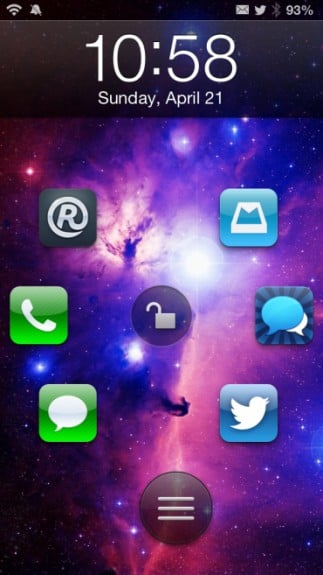 Notifications will still appear on the lockscreen as usual, but when the user moves the grabber the notifications will disappear. Letting go of the grabber will make them reappear. It's a smart way of handling it, though it mixes the current swipe-centric approach with the grabber approach of Atom, which might take some time to get used to.
Atom, along with other jailbreak tweaks that change the lockscreen show that Apple has a lot of room for improvement in iOS 7. Much of iOS hasn't changed since the debut of the first iPhone in 2007. In the case of the lockscreen, Apple simply added more items to the screen without changing the basic functionality much at all. Perhaps it is time for some sort of change.
Atom is currently available in the BigBoss repo in Cydia for $1.99.