AT&T 4G Data Plan Priced Like Current 3G Data Plan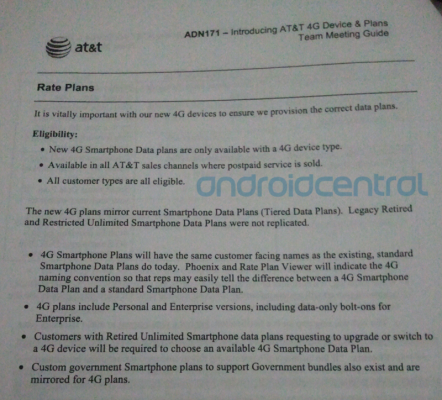 Following a leak of AT&T's new 4G smartphone data plans to Android Central, which will be introduced alongside the launch of the HTC Inspire 4G, the carrier has issued a statement to the blog that pricing will not change from 3G to 4G smartphone data.
AT&T is expected to transition to HSPA+, an evolved 3G protocol, for its 4G network in the first half of this year as a stepping stone to migrating to LTE, a protocol that's already employed by rival carrier Verizon Wireless in many major metropolitan areas, for 4G in the second half of 2011. It's unclear, however, if the carrier may increase its 4G data plans when LTE is introduced.
In spite of the leaked data sheet, it looks like AT&T won't be forcing those with who are grandfathered into an unlimited data plan to switch to a separate 4G data plan. The carrier says, "Customers who currently have an unlimited plan can upgrade to a 4G device and keep their unlimited plans."
For now, the carrier is saying users can keep their 3G smartphone data plan pricing. For users who were grandfathered into the unlimited 3G smartphone data price, they can keep that plan if they upgrade to a 4G smartphone. Other users can either opt for a $25 or $15 metered data pricing plan, same as on 3G.
Via: Android Central

This article may contain affiliate links. Click here for more details.