AT&T 4G LTE Speed Tests in Rural America
This week AT&T turned on their AT&T 4G LTE data network after years of waiting. Big cities in our area enjoyed LTE sooner, but rural North Carolina had to wait. I live between Asheville and Charlotte, North Carolina, two cities with over 400,000 and just under 800,000 people. The population of Burke County with 12 little towns is about 90,000. Finally, our community enjoys both Verizon and AT&T 4G LTE. We're still waiting for Sprint's 4G LTE network to show up.
Even though Verizon turned on LTE over a year ago, people locked into more than one smartphone contract with AT&T wouldn't switch due to early termination fees. AT&T kept stringing us along with promises of LTE "coming soon" for over a year. They finally made good, so we're posting a few speed tests to show what 4G LTE looks like in a somewhat rural area. AT&T beats Verizon in data speed, but not coverage area.
AT&T 4G LTE Speed Tests
Here's the first speed test below in our relatively rural area of Burke County, North Carolina. Notice that the ping test hit 79ms while downloads averaged 23.27Mbps. Uploads measured an average speed of 9.02Mbps. That's pretty fast for wireless data.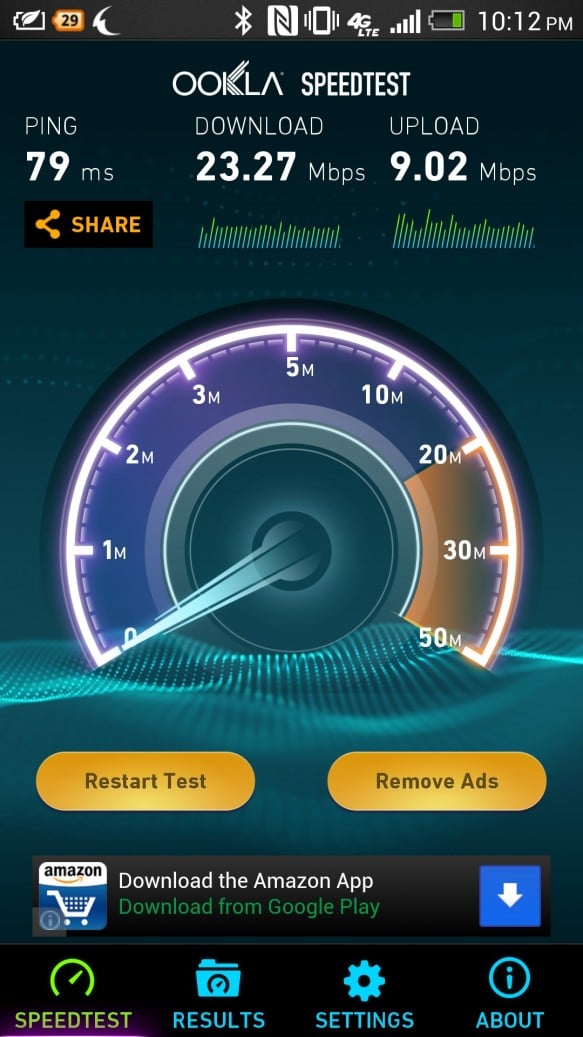 Now here's a test below with LTE turned off on the HTC One. We get slower speeds with a ping test of 120ms. Downloads were less than half as fast at 9.12Mbs and uploads suffered at 1.42Mbps. We saw inconsistent upload speeds with or without LTE.
As a comparison here's a speed test in an area on the other side of town where the wireless coverage gave us only a couple of bars. Notice that the AT&T speeds look a lot like the non-LTE speeds near our house. Speeds always drop the further one gets from Interstate-40 so we suspect that's the culprit in the test below.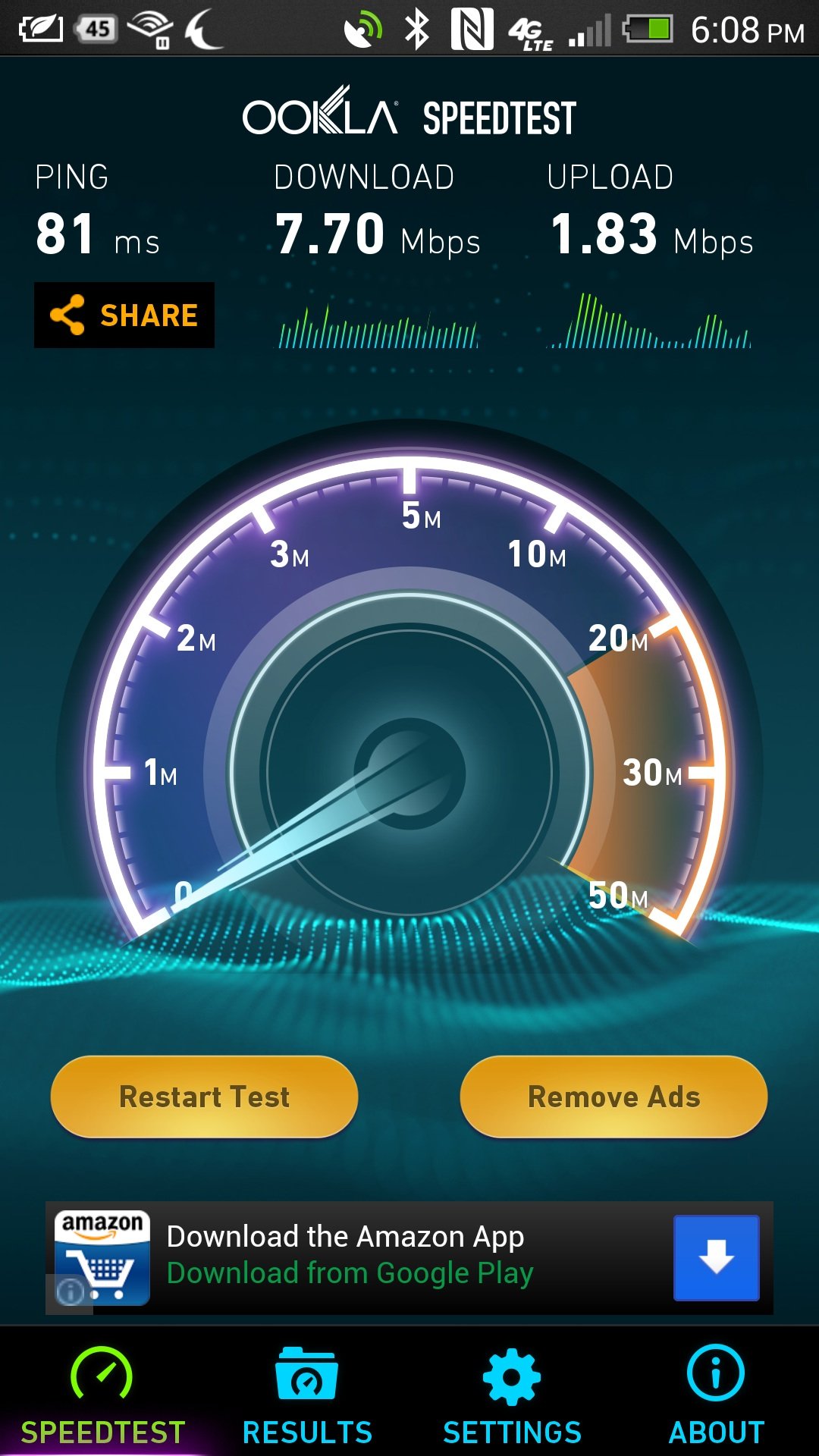 To compare AT&T with Verizon, we tested Verizon LTE on an iPad mini. It's not a perfect comparison, since we used different hardware, but we hope it does at least give readers an idea of the speed differences.
Notice below the ping test gave us the fastest speed by a tiny margin. However the download and upload speeds lagged behind AT&T's LTE in our area. LTE up and down on Verizon looked more like non-LTE on AT&T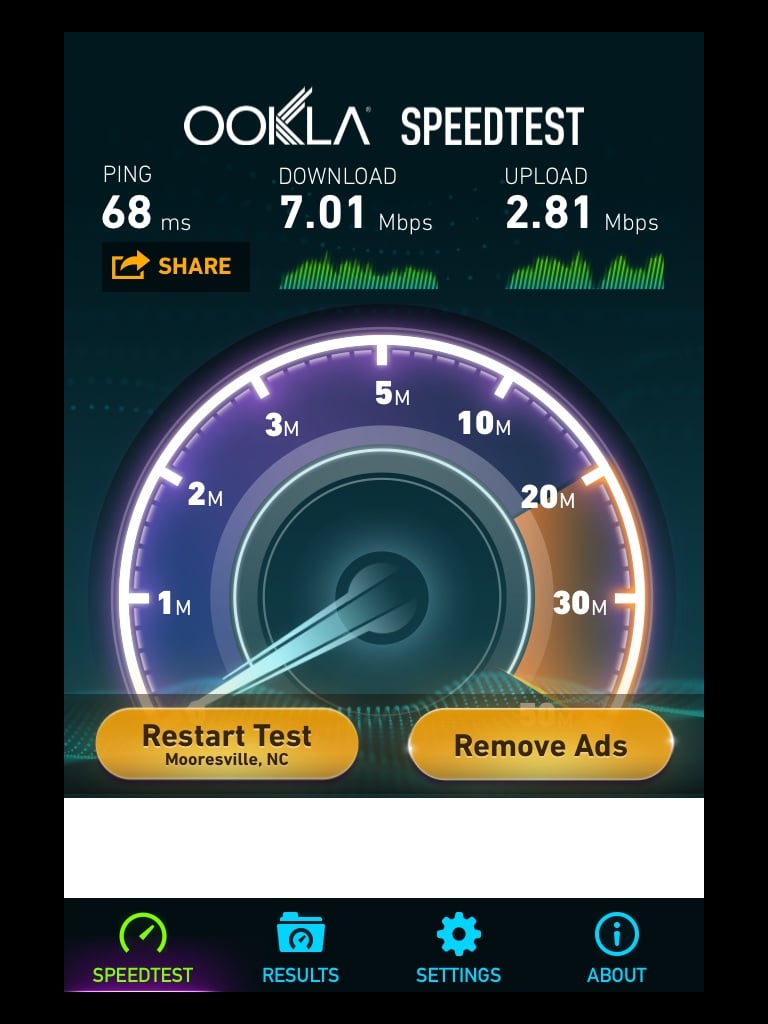 AT&T 4G LTE runs much faster than Verizon's LTE in our area. Also, the speeds max out higher the closer one gets to the Interstate since that's where both companies concentrate their efforts to expand their data networks. For those moving to rural areas, live and work near a big city and close to the Interstate to get the best LTE speeds.

As an Amazon Associate I earn from qualifying purchases.