AT&T Already Prepping Customers for iPhone 5S Upgrades [Updated]
AT&T customers may be treated for a surprise when they log in to their accounts online as AT&T is presenting some iPhone 5 customers with the option to qualify for a discounted upgrade already. In the past, AT&T Mobility offered current iPhone customers in the middle of a two-year contract the option for a discount–depending on their account status and various other factors that the carrier computes–when they upgrade to a new iPhone approximately a year after they purchased and signed the original two-year contract.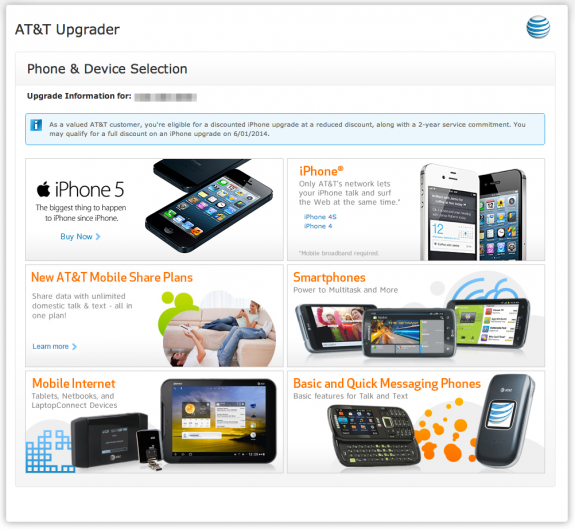 While customers won't get the full subsidized pricing when they upgrade if they're mid-contract, AT&T is the only known carrier of the four national providers to offer a discounted upgrade for those who normally wouldn't qualify for any subsidies. This means that if you do qualify for a new iPhone upgrade, you'd pay $200. If you don't, AT&T takes about $200 off of the full retail price. For the base 16 GB model, that means $200 off of $650, so you'll end up paying about $450 if you qualify for discounted upgrades.
I noticed the upgrade eligibility when I tried to pre-order my Nokia Lumia 1020 PureView about a week ago. I had pre-ordered and activated my AT&T 64 GB iPhone 5 on launch day when that handset debuted last year, so I wouldn't qualify for a full discount on my upgrade until late 2014.
However, as I am an iPhone customer, the discounted upgrade pricing–not full upgrade pricing at this time–only applies to another iPhone purchase, and not for other smartphone brands, meaning that I cannot get any discounts if I switched to Android, the Lumia 1020, or any BlackBerry or Windows Phone models in AT&T's lineup. Essentially, I paid full price for the Lumia 1020 to get the new phone about mid-way through my iPhone 5 contract. However, if I had opted for another iPhone, or if I had chosen to wait a few more months until Apple announces the new iPhone 5S, I would have gotten slightly better pricing than full retail cost.
I had logged in to my AT&T account a few weeks before the Lumia 1020 preorder and my account was not flagged for a slightly discounted iPhone upgrade, so the change must have happened within the past month. This is typically a little early for AT&T as the carrier typically waits until close to the iPhone announcement to update eligibility statuses on customer accounts, and we're guessing that this may have to do with more competition as all of AT&T's major rivals now offer iPhones on their networks as well.
It's an interesting strategy that AT&T Mobility is employing, and it does keep iPhone customers locked into the ecosystem if they wanted to get new phones ahead of their full upgrade eligibility and not have to pay a minimum of $650 for that privilege. I haven't heard of Sprint Nextel, T-Mobile US, nor Verizon Wireless offering a similar promotion with contract subsidies for the iPhone.
Update: In a separate statement to The Verge, AT&T confirms the early upgrade pricing for customers with accounts in good standing. The Rethink Possible network claims that the early upgrade pricing, offering a slight but not full subsidized discount, applies to all smartphone models, and not just the iPhone.
This is inconsistent with my experience last week when I logged in to check my upgrade eligibility where I only qualified for the early upgrade subsidies for the iPhone, but not for any other phone. As I've already made changes to my account, I cannot verify AT&T's latest claims.
Also, another inconsistency with AT&T's latest claims, I can ascertain that I did not qualify for early upgrade pricing, despite having a good standing account, on March 22, or roughly six months after I had upgraded to the iPhone 5 in late September on AT&T's network. As late as a month ago, early upgrade pricing was not available to me.
Customers with an account in good standing can take advantage of an "early upgrade" price after six months. The cost is $250 on top off the standard two-year contract pricing for a phone, making $449.99 the early upgrade price for a 16GB iPhone. However, AT&T also confirmed this offer is good for any device, not just the iPhone.

As an Amazon Associate I earn from qualifying purchases.