AT&T and T-Mobile Kill Merger, Dish Eyes T-Mobile
As the year comes to an end, the biggest merger in wireless also comes to an end. In a statement issued today, AT&T confirmed that the T-Mobile merger was dead in the water.
The $39 billion deal between AT&T and Deutsche Telekom AG, the German owner of T-Mobile, announced back in March has met opposition from carriers and of late the FCC, but there was still hope that it might go through.
In a statement issued today, AT&T and T-Mobile have agreed to top pursuing the merger. It's clear that AT&T is not happy with the deal based on their opening statement below.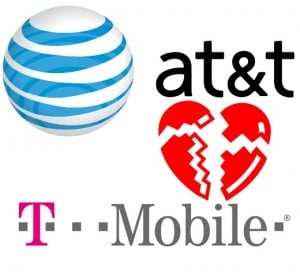 The actions by the Federal Communications Commission and the Department of Justice to block this transaction do not change the realities of the U.S. wireless industry. It is one of the most fiercely competitive industries in the world, with a mounting need for more spectrum that has not diminished and must be addressed immediately. The AT&T and T-Mobile USA combination would have offered an interim solution to this spectrum shortage.  In the absence of such steps, customers will be harmed and needed investment will be stifled.
AT&T had planned to use this acquisition to bolster the reach of the company and build out the wireless spectrum, which it claimed would benefit consumers — as shown in the commercial below.
The broken deal means that AT&T will need to pay Deutsche Telekom AG $4 billion yet this year. AT&T also announced that the company would agree to a "beneficial roaming agreement" with T-Mobile and Deutsche Telekom AG.
This isn't the end of the road for these two companies. AT&T chairman and CEO Randall Stephenson provided the following statement regarding the failed T-Mobile purchase.
To meet the needs of our customers, we will continue to invest," Stephenson said. "However, adding capacity to meet these needs will require policymakers to do two things. First, in the near term, they should allow the free markets to work so that additional spectrum is available to meet the immediate needs of the U.S. wireless industry, including expeditiously approving our acquisition of unused Qualcomm spectrum currently pending before the FCC.  Second, policymakers should enact legislation to meet our nation's longer-term spectrum needs.
T-Mobile is also being courted by another potential buyer. Dish Network has expressed interest in purchasing T-Mobile. According to Reuters, Dish has spent $3 billion on the wireless spectrum, and is in need of a partner to handle the voice end of things as the company looks to expand past satellite TV.
AT&T stock is down .63% after hours. Deutsche Telekom AG is down 1.97% after hours. Dish is down 2.48% after hours.
Via WSJ

As an Amazon Associate I earn from qualifying purchases.