AT&T 4G LTE MiFi Liberate Brings Touchscreen and Long Battery Life
AT&T's latest mobile hotspot from Novatel Wireless has tremendously long battery life, and is the first MiFi device with a touchscreen.
Today AT&T announced the MiFi Liberate, the first 4G LTE mobile hotspot with a 2.8-inch touchscreen. The touchscreen makes using the device much easier than most other mobile hotspots. The touchscreen makes it easy to toggle the status of the mobile hotspot, change network settings, check data usage, and manage connected devices.
The MiFi Liberate also features a very long battery life for a mobile hotspot. Novatel Wireless claims the device will last up to 11 hours on a single charge. Actual use might be closer to 10 hours, but 10 hours of 4G LTE connectivity is really good. With its long battery life the Liberate should work for most of a work day with constant use, or last several days with intermittent use.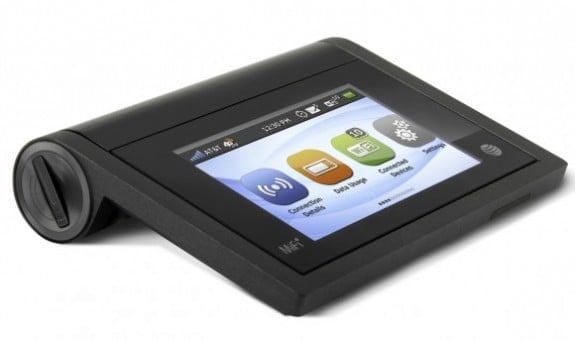 Like many recent mobile hotspot the AT&T MiFi Liberate has a MicroSD card slot to make it easy to share documents between devices connected to the device's network.
Up to 10 devices can connect to the A&T MiFi Liberate at one time, so users shouldn't have a problem connecting all of their devices to the mobile hotspot. We recommend keeping the number connected to the device low, however. More devices connected means more data used, which is expensive on AT&T's plans.
Unfortunately AT&T won't say when the MiFi Liberate will come to the U.S. market. It also won't say how much the device will come when it does release.