AT&T announces it's portfolio of Windows Phone 7 devices
AT&T is the premeire launch partner with Windows Phone 7 and they have an impressive line up to get the party started. I only wish the HTC HD7 and Dell Venue Pro were on AT&T instead of T-Mobile. I am not going to lie, I am seriously considering jumping to T-Mobile just to get those two devices. I am sure the AT&T offerings are great and plentiful, but I really like the 2 T-Mobile offerings. From the AT&T lineup listed here, I am really digging the LG Quantum.
AT&T today introduced a leading portfolio of new phones based on Windows Phone 7. Three new smartphones are included in the portfolio: the HTC Surround, the LG Quantum and the Samsung Focus. All will be available for the holiday season for $199.99 (the Samsung Focus hits stores first on Nov. 8), have a capacitive glass touch screen, 5-megapixel camera and a 1GHz Snapdragon processor, but are designed with different types of customers in mind.
Here are the initial device offerings from AT&T…
LG Quantum – designed for work, play and everything in between. With a slide-out keyboard for quick use of Office Mobile, users can stay active and up to date with work. The LG Quantum also features DLNA technology through a preloaded application called Play To, which allows users to wirelessly stream videos, music, and pictures from the phone to a DLNA-enabled TV, stereo, Windows 7 PC and other consumer electronics devices.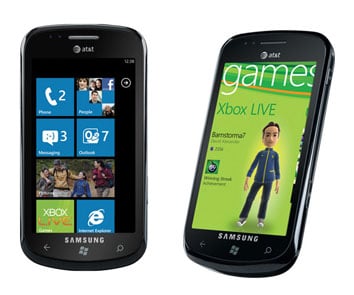 Samsung Focus – debuts as AT&T's thinnest Windows Phone and offers a visually stunning experience with a Super AMOLED screen on a sleek 9.9 mm-thin touch screen phone. With the Focus' amazingly crisp, brilliant screen, photos, games and videos come alive.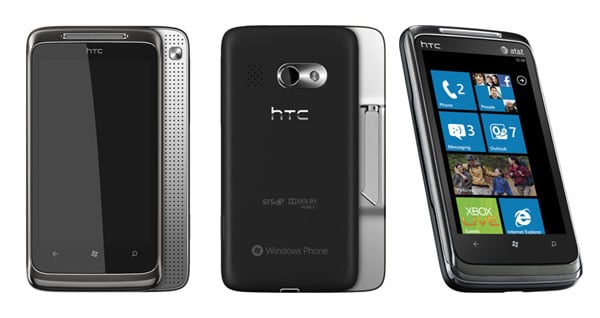 HTC Surround – premiers as the first smartphone to include integrated Dolby Mobile and SRS surround sound speakers. The HTC Surround speakers slide-out and reveal a kickstand for watching video beneath its 3.8-inch touch screen. HTC Surround blurs the line between home and mobile entertainment, making games, music and video on the go more enjoyable than ever.